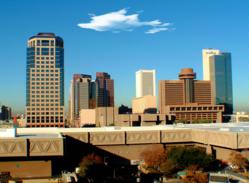 No one should be paying a management company to not return phone calls or get projects done on time.
Phoenix, AZ (PRWEB) February 06, 2013
Spectrum Association Management has been named by the Business Journal as one of the Best Places to Work for the fifth year in a row. The Phoenix HOA management company is recognized as having the highest level of customer service. The company attributes its success to how much its employees enjoy their jobs.
"We work hard to make our workplace among the most fun in any industry," said Andy Hill, CEO of Spectrum. "When our employees love their jobs it makes a huge difference in the level of service they provide to HOA board members and homeowners. And, it allows us to keep our employees around for a lot longer than most companies in our industry."
The Phoenix HOA management industry suffers from high turnover of community managers. The problem is largely a result of overloaded employees who often manage more than a dozen communities. Spectrum Association Management said it has a much lower limit to how many communities one manager can oversee.
The company is structured differently than most management companies with a team of employees handling things from managing finances to compliance drives to attending board meetings. The team approach lessens the workload on each employee and makes sure things get done quickly.
"We are the only Phoenix HOA management company that has policies in place that make sure our homeowners and board members get phone calls and emails responded to immediately," Hill said. "No one should be paying a management company to not return phone calls or get projects done on time." The company also said it not only provides better service but often charges lower rates than its competitors. Some of those companies have become known for 'nickel and diming' associations with a whole assortment of fees.
Arizona HOA management companies range in size from those that are publicly traded and have more than 300 neighborhoods to look after to those that are startups in the owner's garage. Spectrum Association Management prides itself on being a mid-level player. They said neighborhoods don't get forgotten about or have to worry about their records stored under someone's bed.
Spectrum rewards employees who get high customer service rankings from the HOA boards they manage. The company also has frequent potluck lunches and crazy activities like donut races and parking lot barbeques. The goal is to surprise employees and help work be unpredictable. "We love to hear our employees laugh," Hill said.
Arizona HOA management companies aren't necessarily known for being laugh factories. And, if you talk to many board members they aren't in a laughing mood when you ask them about their HOA management company. Spectrum Association Management company seems to thrive on being different.
"We get things done. We enjoy what we do. And, we work hard to make every neighborhood we partner with a better place to call home," Hill said.
Spectrum Association Management is a privately held company with offices in Gilbert and Scottsdale, Arizona. They can be found at 480-719-4524 or http://www.spectrumam.com.