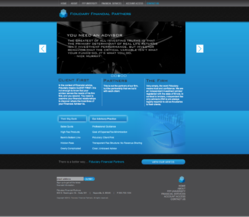 There is a big difference between acting as a fiduciary instead of working with a big, impersonal bank. We offer a holistic approach to our relationship with our clients and we want our website to be a reflection of that approach.
Naperville, IL (PRWEB) February 05, 2013
Fiduciary Financial Partners (FFP) has launched a new website to support its mission of being a trusted, "fiduciary" partner and helping customers make sense of a complex financial world. The new website presents FFP's approach, describes their full suite of financial services and offers cutting-edge, web-based wealth management tools.
The new website is located at: http://www.fiduciaryfinancialpartners.com.
The website features "FFP University", a resource that helps investors make more educated financial decisions. FFP University contains a series of educational videos, articles and webinars which discuss the most prevalent issues of the financial world.
FFP clients also have the opportunity to utilize sophisticated, easy-to-use web-based wealth management tools. With a private account that is only accessible by customer and advisor, a client can view everything about their financial and estate plans anytime, anywhere.
John Eberle of Fiduciary Financial Partners says:
"We decided to launch a new website to tell our story better. Our goal was to let clients know that there is a better way. There is a big difference between acting as a fiduciary instead of working with a big, impersonal bank. We offer a holistic approach to our relationship with our clients and we want our website to be a reflection of that approach."
###
About Fiduciary Financial Partners, LLC
From their offices in Naperville, IL, Fiduciary Financial Partners (FFP) provide a wide range of financial and estate planning services, including: Financial Planning & Consulting,Portfolio Management, Retirement Plan Advisory and Insurance Brokerage. As a "fiduciary", independent financial advisor, FFP is dedicated to a "client first" approach. For more information, visit their website at: http://www.fiduciaryfinancialpartners.com
Office 630.780.1534
Fax 630.599.7087
608 S. Washington St. - Suite 301
Naperville, IL 60540
fiduciaryfp.com