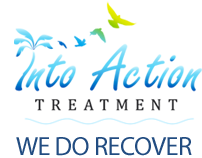 I want everyone of our clients to experience what I did 6 years ago

-Andrey Rossin, CEO & Founder
Miami, Florida (PRWEB) February 07, 2013
It is not often that someone in recovery is able to put together a full year of sobriety. The statistics are pretty bleak when it comes to early recovery, however Into Action Treatment's first clients are celebrating their 1 year sobriety date.
In recovery, the sobriety date is like a badge of honor, representing the date an addict or alcoholic made the decision to change their life. Many times the date changes, as the addict stumble and relapse quite often.
Into Action is celebrating their one year anniversary this week and all of the staff and clients are very excited about this special milestone for the center. Andrey Rossin is the founder and CEO of Into Action and he started his recovery 6+ years ago. "I would not trade anything for this moment. I am living my dream and wake up everyday knowing that I get to help others achieve lasting sobriety."
It is not often that you hear of a center celebrating their sobriety date, but Into Action is not your average drug treatment center. They are the only licensed Big Book Step Study treatment center in the world. They follow the Hyannis format, which lays out a rigorous, but effective approach to recovery.
Into Action clients stay an average of 97 days for those that successfully complete the program, which is much longer than the 28 day programs that the industry is full of.
Rossin also allows his clients to stay even after the insurance money and private pay funds have dried up, so long that they continue with the process and want to get better. "To me it's not about the money, although we have to make some in order to stay open. I want everyone of our clients to experience what I did 6 years ago. My life changed and I owe it to the world and anyone else who is living in that hell to reach a hand out and show them the way out." He also says that the more senior clients are role models and set a great example at the rehab for the newer clients.
With a mindset like that, Rossin believes that he will be celebrating this time of year for many years to come, and we think he is right.