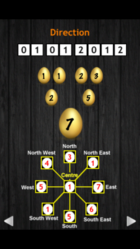 This app may help you realize the missing ingredient and you may even see a breakthrough this year!
(PRWEB) February 06, 2013
Chinese astrology has been around for decades and the fact that it is still used by many in our Modern world today reflects that people are still using the knowledge to an extent of benefit. Number Tells aims to spread the ancient knowledge that may help more people become successful in their lives.
"If self-improvement is one of your New Year's resolutions, numerology can help you understand yourself better to set more realistic goals," says Phyllis Tang, the creator of Number Tells.
By entering your birth date, the app's algorithm is able to generate a person's personality traits including strengths and weaknesses. One can choose which aspect of life to consult on, increasing the reliability of the information given.
"You may be a businessman who has been struggling over the past year to grow your business. This app may help you realize the missing ingredient and you may even see a breakthrough this year!"
Tang believes that if one takes the information seriously and acts on it, the user will see a significant improvement to his or her life in the New Year.
Number Tells also hopes to help its users improve their relationships in the New Year. As long one has the birth date of a family member, co-worker or a potential partner, that person's personality will be revealed by the app.
Tang hopes that users can also use this app to understand the personality traits of others better. Stronger relationships can thus be fostered when one knows what makes the other party pleased or annoyed. Such information, she claims, will come in handy when the user wants to impress the other party.
"I have personally benefitted from Numerology. Now I can play on my strengths to make up for my weaknesses. I hope users can take advantage of this app and to make year 2013 a better one from the last!"
To find out more information on how Numerology can uncover one's true potential in various aspects of life, visit the website now.