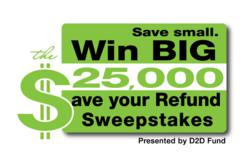 We want to help transform saving money from a mundane act of sacrifice into an exciting and fun event infused with possibility.
Boston, Mass. (PRWEB) February 05, 2013
Unfortunately, many U.S. adults aren't aware of easy saving tools. Even more, people tend to view saving money as a form of denial, and may look for every opportunity not to do it.
That's why the Boston-based nonprofit Doorway to Dreams Fund (D2D) launched its first-ever Save Your Refund Sweepstakes Friday. Tax filers over age18 who save a minimum of $50 of their federal tax refund, by splitting their refund using Form 8888, can enter at http://www.saveyourrefund.com. The sweepstakes, which goes to April 15, has a $35,000 prize purse, including a $25,000 grand prize and four $250 prizes per week.
"Our goal with the sweepstakes is to bring attention to the tax-time savings opportunity and the tools available to facilitate it," Timothy Flacke, executive director of D2D, said. "We want to help transform saving money from a mundane act of sacrifice into an exciting and fun event infused with possibility."
Flacke said that tax time is an "unparalleled" saving opportunity, as Americans receive more than $300 billion in tax refunds from the Internal Revenue Service every year. For working families, federal refunds are often the largest lump sum of income received each year, he said.
A study D2D conducted of households with between $20,000 and $60,000 in annual income found that 62 percent experienced at least one financial crisis in the last year and 51 percent lacked any emergency savings to help them cope.
D2D has studied and pilot-tested "prize-linked savings programs" (PLS) since 2007. In 2009, D2D led a team that developed and launched Save to Win, a PLS product offered by credit unions in Michigan, Nebraska and North Carolina.
"To date, over 40,000 Save to Win accounts have been opened, collecting $70 million in deposits," Flacke said. "This demonstrates that people like the idea of winning prizes as a result of saving money. Winning even small amounts motivates people to save more successfully."
A long-time D2D partner, the Baltimore CASH Campaign, completed April Bradley's tax returns for free in 2009. Bradley, a 29-year-old Baltimore-area single mom, was struggling to stay afloat and unable to save anything from her refund—although the desire was there.
Two years later, however, she had a new job in the accounting profession, reduced expenses and was ready to commit to saving for her five-year-old son's education. The CASH campaign told her about a prize-linked savings program, educated her about savings bonds, and she eagerly purchased bonds with her federal tax refund, all in her son's name.
She said the incentive program was the "icing on the cake" in what went into her decision to save.
"Contests and prize programs are very motivational," she said. "People need an extra push."
Capital One has been supporting tax-time programs for many years.
"Tax season is a good opportunity to plan for the future, especially if you anticipate receiving a refund, which can help to jump start a savings plan," said Daniel Delehanty, senior director of Community Development Banking at Capital One. "Through Capital One Bank's Investing for Good program we continue to support organizations like the D2D Fund that are driving innovative ways to encourage saving in communities across the country."
SAVING TOOLS
Since 2007, tax filers have had the option to send part of their federal refunds directly to a savings product through a "split refunds" option available on IRS Form 8888. Beginning in 2010, on this same form, refund recipients could request that a part of their refunds be issued in inflation-protected U.S. Savings Bonds - either for themselves or for others (including children).
Savings bonds are considered a sound, easy tool for saving. Savings bonds are safe, available for $50, have no fees and offer interest rates that are competitive to banks. The Series I Bond is fairly liquid, bought and redeemed at face value and can be cashed in with minimal penalties in case of an emergency. Because of these benefits, savings bonds have proven to be an ideal savings tool for some Americans, especially "starter" savers with less money to put away or who lack access to a traditional savings account.
"Buying a U.S. Savings Bond with your tax refund is an easy way to start saving," said Bernie McKay, director of The American Tax & Financial Center at TurboTax. "You only need $50 to get started and you'll earn interest so your money starts growing immediately."
For more information about the Save Your Refund Sweepstakes, visit http://www.saveyourrefund.com.
ABOUT DOORWAY TO DREAMS FUND
The Boston-based Doorways to Dreams Fund (D2D), a non-profit founded by former Harvard Business School professor Peter Tufano, has long championed savings bonds as a tool for helping low-and moderate-income savers. D2D's mission is to strengthen the financial security and opportunity of low- and moderate-income consumers, and the organization views encouraging saving as a critical strategy to advance that important mission. For more information, visit http://www.d2dfund.org.