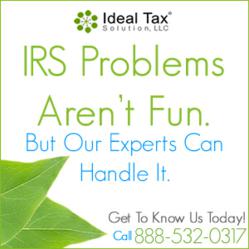 Tax code can be confusing
Costa Mesa, Calif. (PRWEB) February 06, 2013
Ideal Tax Solution understands that parents pay a lot in education expenses for their children, but they may not be aware that there are a variety of education tax credits available to them or what type of tax help they can receive, especially now. Parents also may not be aware that there are clear benefits to filing their taxes sooner rather than later, says Beyon Tandy, CEO of Costa Mesa-based Ideal Tax Solution, LLC.
"The IRS allows taxpayers to file for their education credits by mid-February," explains Tandy. "Parents are well advised to have their taxes prepared early so they can take full advantage of these credits and reap the most financial returns. However, many parents don't even know these credits are available to them, or what types of credits they may be eligible to take."
Tandy goes on to say that parents who want to learn more about these education credits may visit http://www.irs.gov. There are specific criteria for these parents to meet, and the tax code can be confusing. There are forms to complete and filing dates to meet. Hiring an expert in tax matters is a wise choice. Offering tax help and providing taxpayers with solid solutions in all types of tax issues is why Ideal Tax Solution, LLC, was created.
"According to a recent announcement by the IRS, taxpayers are now allowed to claim the education benefits," says Tandy. "They couldn't before January 30, 2013. However, this delayed start date will have no effect on taxpayers claiming other education credits, such as tuition, fee deductions and loan interest deductions. Knowing the difference in the education tax credits can mean a difference in the size of the return that a taxpaying parent gets back from the government."
More information about claiming education tax credits may be found on http://www.irs.gov/uac/Newsroom/IRS-To-Accept-Returns-Claiming-Education-Credits-by-Mid-February. For more information about Ideal Tax Solution and its full range of services for U.S. taxpayers, visit http://www.IdealTaxSolution.com or call 888.393.5154. For good tax tips and information, find Ideal Tax Solution on Facebook and follow them on Twitter.
About Ideal Tax Solution, LLC – Located in Costa Mesa, Calif., the company provides a full range of tax preparation and negotiation services as well as reassurance to taxpayers nationwide. With more than 55 years of combined experience providing American taxpayers with federal and state income tax solutions, Ideal Tax Solution offers an experienced staff that includes Enrolled Agents, CPAs and Senior Tax Consultants who stand at the ready to help with any tax issue.