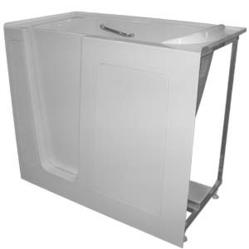 Hydrotherapy walk in bathtubs can be a great option for people seeking out homeopathic treatments.
Denver, CO (PRWEB) February 05, 2013
Aging Safely Baths & More, a supplier of quality walk in bathtubs and showers, is pleased to announce its website will now feature a page dedicated to providing up-to-date information on hydrotherapy. Customers who suffer from aches, age or ailments that restrict mobility may enjoy the benefits of hydrotherapy when they purchase senior bathtubs equipped with massage jets.
Senior bathtubs give customers the option to enjoy a therapeutic massage while soaking, or they can choose to soak in the walk in tub without massage. The hydrotherapy page provides a brief history about hydrotherapy and also notes that water massage can inexpensive way to soothe muscles. Owning a hydrotherapy bathtub gives customers the opportunity to enjoy water massage any time, so their physical condition, mood or schedule allows them to enjoy the benefits of hydrotherapy walk in bathtubs without the inconvenience of going to a spa.
Since all massage jets do not provide the same sensation, the new hydrotherapy page distinguishes between air and water jets. Zach Wennstedt, CEO of Aging Safely, said, "Customers who want walk in tubs with water massage should have a sense of what type of pressure different jets will provide. Some customers prefer walk in bathtubs with a gentle massage sensation while others like a firm one. The new hydrotherapy page helps educate customers on."
The hydrotherapy page also mentions that hydrotherapy can potentially help alleviate pain, reduce inflammation and lessen stiffness induced by some medical conditions. It also informs customers that hydrotherapy walk in tubs can improve blood circulation and help customers relax. It offers informative advice, so shoppers can decide whether a hydrotherapy tub will be beneficial and enhance their bathing pleasure and comfort.
Additionally, the new hydrotherapy page provides photographs and information about the hydrotherapy walk in bathtubs offered by Aging Safely. Shoppers can conveniently click on a hydrotherapy bathtub of their choice to instantly obtain detailed information about the model. Aging Safely is a national supplier so customers can choose from a wide range of hydrotherapy massage senior bathtubs and styles.
According to the company, customers can also learn more about unique approaches to well being by taking advantage of links provided on Aging Safely's hydrotherapy walk in bathtubs page. The page makes it easy to access sites dedicated to seniors, a website geared to arthritis and one that specializes in information for diabetics. Aging Safely is pleased to offer a senior bathtubs hydrotherapy resource page that keeps customers informed and secure with their decisions to choose the right hydrotherapy walk tub.
Contact Information:
Zach Wennstedt
1-888-779-2284
info(at)agingsafelybaths.com