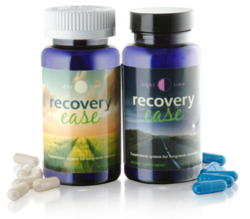 Austin, TX (PRWEB) February 06, 2013
After a year in development, the makers of Withdrawal Ease™ have released a new daily supplement designed for those that continue to suffer from opiate withdrawal months after they stop taking pain medications.
The new supplement, called Recovery Ease, is an all-natural supplement system designed to help people affected by Post-Acute Withdrawal Symptoms (PAWS) from opiate dependency.
"When we looked at our sales, we noticed that some of our customers were ordering Withdrawal Ease every month," says George Catlin, founder of Withdrawal Ease. "When dug a little deeper, we discovered that this subset of customers were continuing to suffer from the effects of withdrawal months after they stopped taking their pain meds — a phenomenon clinically known as Post-Acute Withdrawal Symptoms, or PAWS.
"So we set out to address their needs," said Catlin. "And the result is Recovery Ease."
Though prescription medications can offer life-changing results, the possibility of dependency and abuse is always there. And opiate painkiller abuse is a problem on the rise. In fact, more people die of prescription drug overdoses than all other illegal drugs combined, killing more people than car accidents in 2010.
Like Withdrawal Ease, the Recovery Ease system comes with daytime and nighttime formulations. The daytime formulation is a daily multivitamin that deals with lethargy, anxiety and depression. The nighttime formulation serves as an all-natural sleep aid that's gentle and non-addictive, designed to help with persistent nighttime withdrawal symptoms such as insomnia and Restless Leg Syndrome (RLS).
"With Recovery Ease and Withdrawal Ease, we can now help people at all stages of recovery," Catlin continued. "And that's very gratifying."
Recovery Ease is available for purchase at withdrawal-ease.com, or recovery-ease.com.
ABOUT WITHDRAWAL EASE
In 2005, George Catlin was diagnosed with cervical spinal stenosis and had neck surgery to treat it. Like most people that undergo the procedure, George was prescribed opiate painkillers for the pain. But when it was time to get off the medication, George discovered he had a problem. He had become physically dependent to the painkillers. After researching his options, he discovered he really didn't have many: either go cold turkey or check into rehab. At that moment, Withdrawal-Ease was born, and was developed into the first and only all-natural supplement system designed specifically for those suffering from the agonizing symptoms associated with opiate withdrawal. Each 30-day supply contains proven amino acids, herbs, vitamins and minerals, and comes in daytime and nighttime formulations. Recovery Ease is the latest product offering from the makers of Withdrawal Ease. Recovery Ease is designed for people that have already gone through the first stage of withdrawal, but are still experiencing Post-Acute Withdrawal Symptom (PAWS).