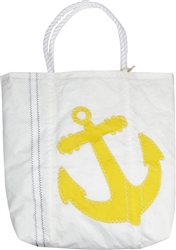 A recycled saicloth bag make a wonderful choice for the eco chic traveler.
Kentfield, California (PRWEB) February 05, 2013
SolEscapes.com an online boutique specializing in sun, beach and resort essentials is offering a limited time 10% off sale on recycled sailcloth bags. The coupon code "Sail-10" is valid until 2/12/2013. These eco chic totes are perfect for any winter beach, cruise or resort vacation. They are lightweight, durable and come in fun nautical, sea life and tropical nature patterns and make great beach bags.
44 Knots bags are a wonderful bag choice for the eco chic traveler. Each one of a kind bag is made out of vintage used sails and handcrafted in Southern California. 44 Knots, the company behind these fabulous bags, is not just green they also donate a portion of their sales to the Surfrider foundation. Each bag is super durable, machine washable and made in the USA.
SolEscapes.com carries the sailcloth bags in 2 great sizes. The large tote measures 21" wide by 14" deep and the medium size measures 15" wide by 17" deep. Both sizes make for perfect beach bags, resort or cruise totes. All bags are white with a colorful design such as seahorses, leaves, anchors, and octopus in yellow, black, blue and pink. The straps are made of white rope.
Other great beach bags at SolEscapes.com are the bogg bags, Oceanaire neoprene totes, Zanzibar raffia totes and a great selection of straw beach tote bags with matching sun hats from Global Glamour Fashion.
SolEscapes is a California based online boutique offering a unique selection of stylish and practical sun, beach and resort essentials for all your warm weather needs. SolEscapes offers personalized service, high quality products and fast affordable shipping. Merchandise including all sun hats is carefully and beautifully packaged to ensure a perfect arrival. For more information please visit SolEscapes.com. You can also connect with SolEscapes on Facebook, Twitter and Pinterest.
# # #