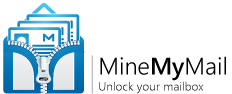 Longmont, CO (PRWEB) February 05, 2013
Announcing immediate availability of http://minemymail.com, enabling users to generate powerful mailing lists based on the existing content in their email account.
By creating a list of the people with whom users have already corresponded, MineMyMail enables its customers to target their mailings to the broadest possible audience.
Thousands of people have already benefited from using the beta version of the new extraction service. This general availability release is an update driven by customer feedback and is part of MineMyMail's commitment to continue delivering additional value from their tools. The latest version includes integration with popular social networking sites like Facebook, Twitter, and Gravatar which maximizes the information included about a user's contacts.
MineMyMail is the leader in email data mining and contact list generation. The company offers a wide range of products and pricing models designed to accommodate individuals and businesses alike.