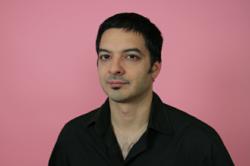 The beauty of honing conversational skills to learn how to meet women is that these skills will leak over into other areas of a guy's life and help him succeed at work and in his hobbies.
San Mateo, CA (PRWEB) February 21, 2013
Meeting women is easy if a guy just knows where to look, assures Dating Expert Carlos Xuma in his latest special article.
"The first step in learning how to meet women anywhere and everywhere is to start meeting people in general," Xuma says in the report. "That means a guy needs to get into the habit of talking and interacting with everyone he comes across. That doesn't mean verbally assaulting every single person riding the bus with him, but does mean striking up a conversation with the little old lady beside him. Or the workingman sitting to his right. Or the cute girl across the aisle."
The trick is to meet people so often that it becomes second nature, he says. In other words, it happens so frequently that when a woman who is interesting appears, the ability to meet her by initiating a conversation is completely natural.
"Practicing conversational skills is one of the best ways a guy can prepare if he wants to learn how to meet women with ease," Xuma says. "Sometimes that first hurdle in approaching a woman is the toughest and this exercise of talking to men, women, children, pets and so on, is one of the easiest ways to overcome any approach anxiety a guy has."
This will also help men gain confidence as they take to heart that conversational skills are something that can be learned, says Xuma.
"Throughout history, people who have been considered some of the most scintillating conversationalists in the world have revealed that their skills were learned ones and that they also had to prepare for conversation," Xuma says. "There is no shame in doing this. It is a skill like any other skill that takes time and practice to become good at."
The beauty of honing conversational skills in order to get good at meeting women is that these skills are universal; the time he spends on their development will leak over into other areas of a guy's life and help him succeed at work and in his hobbies, Xuma says in his report on meeting women.
"Learning how to be a good conversationalist is an overall important skill for nearly every endeavor in life," says Xuma. "It can help a guy in how to meet women, but also help him get a promotion or raise at work. Help him in negotiating with his homeowner's association or with the city council … the benefits are endless."
Carlos Xuma has appeared on ABC and CBS television, as well as Playboy radio. He is the author of The Bad Boy Formula, Secrets of the Alpha Male, the Girlfriend Training Program, and numerous other books and articles. Xuma has been a dating expert and attraction adviser for more than 10 years and has spent years teaching hundreds of men flirting tips for guys, how to seduce women, and how to meet women through his website, http://www.attractwomen.com
For more information, visit Carlos Xuma's website at http://www.carlosxuma.com.