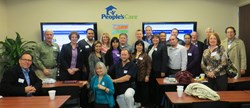 Chino Hills, CA (PRWEB) February 05, 2013
Sense Financial Services will present the self-directed retirement solutions such as Self-Directed IRA and Solo 401k at the upcoming Business Networking Breakfast in Chino Hills, CA. The event will take place on Friday, March 22, 2013 and will include breakfast and networking opportunities. "A Right Place for Seniors" is sponsoring this free event which is open to all.
The Solo 401k Qualified Retirement Plan has become a topic of much discussion lately. Recent changes in Solo 401k contribution limits have increased interest in the retirement plan. This year, the IRS raised the annual Solo 401k contribution limit $1,000 from previous years.
Solo 401k contribution limits are now $56,500 for those age 50 and above and $51,000 for those under the age of 50. Given the rising tax rates, the higher limits attract many who wish to shelter more of their income.
Sense Financial Services has spoken at several events in Los Angeles and Orange Counties, as well as Inland Empire on this topic and what recent increases in Solo 401k contribution limits and mean for the self-employed. Unlike traditional 401k plans, the Solo 401k plan offers unique benefits and advantages to the self-employed and small business owner, such as:

High contribution limits
Checkbook control
Unlimited investment capabilities
Loan feature
Ability to invest without custodian consent
Sense Financial Services will be speaking on these and other features of the Solo 401k at the Business Networking Breakfast.
The Chino Hills Business and Professionals Networking Meetup Group hosts several of these events throughout the year to build a network of business professionals in the Chino Hills area. The group provides local business professionals with opportunities to meet and trade referrals, ideas, and expertise in order to grow their local businesses.
A Right Place for Seniors, an online resource for senior citizens, is the sponsor of this event. Their website, arightplace4seniors.com, provides an in-home care and service providers directory, as well as articles on topics such as long term care options and the effects of Obama care on seniors.
The event will be held in the corporate office of Peoplescare In-home Care. The breakfast will begin at 8:00 am.
For more information about this event and to register, please visit:
http://www.meetup.com/Chino-Hills-Business-Professionals-Networking-Meetup-Group/
About Sense Financial Services:
Sense Financial is California's leading provider of retirement accounts with "Checkbook Control": the Solo 401k and the Checkbook IRA. Over the years, they have assisted hundreds of clients obtain checkbook control over their retirement accounts while providing them with the ability to invest in virtually any investment class, including real estate, private lending, mortgage notes and much more without the need for custodian approval.
To learn more about the solutions they provide please contact (949) 228-9393.