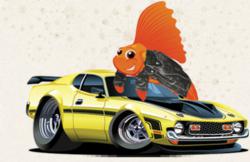 Yet another argument for keeping the accounts alive is that the length of credit history makes up roughly 15% of one's credit score.
San Francisco, CA (PRWEB) February 06, 2013
RoadFish.com men's lifestyle and finance magazine today issued their observations regarding old credit cards, and the question of whether it is better to close an old account or to keep it open. Mint.com's John Ulzheimer recently answered a similar question that came from a Mint.com Facebooker, and RoadFish.com weighed in on the answer and added their own take on the potential effects of closing an old card versus keeping it open.
Mint.com's John Ulzheimer was asked via Facebook if he recommended closing an old card (the user had three total), and whether or not doing so would remove the good credit history on the card. Ulzheimer's short and simple answer is not to close any of the credit cards, for multiple reasons—first being that after ten years, the credit reporting companies remove closed and inactive account information from credit reports. So the consumer with the great credit history on a close card will continue to reap the benefits for ten years, but after that, it will cease to exist on that consumer's creditreport.
RoadFish.com points out that the length of open credit cards is a factor that is taken into consideration when one's credit score is computed, yet another reason to leave the cards open. RoadFish.com's Senior staff writer is quoted as saying, "Mint.com's Ulzheimer is spot-on in his recommendation to leave the cards open. Yet another argument for keeping the accounts alive is that the length of credit history makes up roughly 15% of one's credit score. According to BankRate.com, the longer a consumer has had open credit, the better it looks to the credit reporting agencies and the higher their score is. The key here is keeping an account open for a considerable period of time, with the same credit issuers. Closing an old card takes away that long history, which definitely does not help the consumer."
Another motive for keeping an old card open is the utilization percentage to one's credit. Mint.com's article describes that the relationship between a consumer's credit card balance and their credit limit is represented as a percentage, and this percentage is yet another factor in how one's credit score is calculated. Ulzheimer states, "If your balances are to close to your credit limits, that's no good for your scores."
RoadFish.com explains to its readers that this is a major factor, and not one that should be overlooked. RoadFish.com quotes BankRate.com, which states that the amount of money owed versus the amount of available credit is actually responsible for making up 30% of one's credit score, and is the second most important thing that goes into a credit score (after the consumer's track record of paying down debt.) RoadFish.com's Senior staff writer is quoted as saying, "You always want to be on the low end of your credit utilization. For example, if your Visa credit limit is $8,000, stop using the card when you hit $1,000 or so. That's what looks good to credit card companies—when they give you a high credit limit, and you're essentially saying, 'Thanks for that, but I'll just keep a nice low balance.' An easy way to get your limit higher is simply to call and ask your credit card company if they'll bump it up for you. I did this recently and was surprised at how easy it was. Of course, being a trustworthy, timely customer also goes a long way at how willing they'll be to give you a bigger limit. But it's something that could automatically give your credit score a little lift."
Ulzheimer recommends letting old credit cards be, because as he explains leaving them open certainly will not hurt the cardholder's credit. He does recommend shredding any credit cards that a consumer does not plan on using, that way it will be close to impossible for the card to be stolen and the account fraudulently accessed.
About RoadFish.com
RoadFish.com online men's lifestyle and finance magazine is a popular publication geared towards men in their 30's and 40's. The magazine features such articles as dating advice, RoadFish.com's picks for new luxury items for men, and real estate investment strategies. The trendy magazine also offers financial tips and advice, such as how to keep a good financial budget and how credit card companies judge consumers. RoadFish.com is owned and operated by Purpose, Inc.