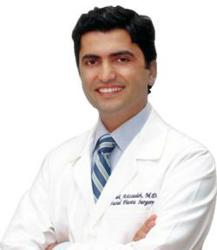 The tear trough is often prone to deep lines that are difficult to smooth, but with Belotero, I'm able to manipulate its placement very easily.
Beverly Hills, CA (PRWEB) February 06, 2013
Babak Azizzadeh, MD, FACS, a renowned facial plastic surgeon in Beverly Hills, is pleased to announce the successful and long lasting effects of under eye rejuvenation through multi-level facial filler injections of Restylane and Belotero. Utilizing the two fillers in conjunction with one another provides patients with the most advanced injectable treatments, allowing for more natural result to be obtained.
"When an individual is looking for a non-invasive procedure to refresh the appearance of their eyes, it's often due to a loss of volume and deep wrinkles that occur in the area. By taking a multilevel approach to filler injections, utilize both Restylane and Belotero, to plump up the area, we can put volume back where it once was. This also corrects deep hollows and helps to smooth stubborn wrinkles in the area," said Dr. Azizzadeh.
Historically, one of the more difficult areas to correct with facial filler injections near the eye has been the tear trough. A patient's tear trough is the area of skin just under the lower eyelid that is extremely susceptible to wrinkles and crease development with age. By using Belotero in combination with Restylane to combat the eye aging in this area, Dr. Azizzadeh is able to bring a softer and more natural appearance to the individual. Though Belotero and Restylane are both made up of hyaluronic acid, a substance found naturally in our own bodies, Belotero tends to be softer and sculpts easily.
"The tear trough is often prone to deep lines that are difficult to smooth, but with Belotero, I'm able to manipulate its placement very easily. It is perfect for superficial injections to the tear trough area since it tends to be more workable than other hyaluronic acid fillers," said expert facial plastic surgeon Dr. Babak Azizzadeh. "Patients who aren't quite ready to seek surgical eye rejuvenation techniques can benefit wonderfully from this procedure."
To proved patients with the best results possible, Dr. Azizzadeh uses a blunt-tip cannula, instead of a needle, to perform the injections. This new injection technique is beneficial for injections around the eyes because the blunt tip cannula does not cause as much trauma to this delicate area, decreasing post-treatment bruising and recovery time. Additionally, the blunt tip cannula provides Dr. Azizzadeh with greater precision so the results look more natural.
Dr. Azizzadeh is a world-renowned facial plastic surgeon and the author of five bestselling books, including the popular consumer guidebook "Beverly Hills Beauty Secrets." He was recognized as a Beauty Expert in 2012, and has been featured in popular media outlets such as Entertainment Tonight, The Doctors, LA Times and the NY Times. Dr. Azizzadeh serves on the Physician Advisory Board of Sanofi-Aventis, Mysoscience, Mentor, and SkinMedica, and was awarded the RealSelf Top Botox Experts Award in 2011. As a Harvard trained facial plastic and reconstructive surgeon, Dr. Azizzadeh has a unique understanding of both facial aesthetics and function.
If you'd like additional information regarding Dr. Azizzadeh or the CENTER for Advanced Facial Plastic Surgery in Beverly Hills, please call (310) 657-2203 or visit http://www.facialplastics.info.