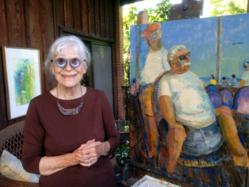 With these glasses, people that are considered legally blind can see what they were missing...
Salt Lake City, UT (PRWEB) February 06, 2013
Landscape painter Beverly Mastrim beats macular degeneration, keeps right on painting thanks to advances in optics technology. Landscape painter Beverly Mastrim isn't even close to finished working, even at age 84. As a water-colorist, oil painter and art educator, Beverly has overcome many obstacles to achieve critical acclaim, multiple exhibitions and numerous awards. However, her most daunting challenge had nothing to do with her art—it was, instead, her failing vision that almost ended her career.
Diagnosed with Macular Degeneration in 2008, Ms. Mastrim gradually found herself unable to bring her artistic vision to life on canvas because she couldn't adequately see her work. "It was incredibly frustrating because I have rapidly lost the ability to see the details in my paintings ," she said. "Colors were faded and there were blind spots where I couldn't see anything at a-- how could I possibly continue if I couldn't see what I was actually painting to know whether it was what I envisioned?" In July 2012, Ms. Mastrim heard about Dr. Jared Cooper, a Low Vision Specialist who helps patients with Macular Degeneration see better through the use of specialized eyeglasses. She was eager to see if he might be able to help. "Macular Degeneration is such a devastating condition because treatment options are so limited. It's like all you can do is wait to slowly go blind."
After her examination, It was determined that Ms. Mastrim was able to continue her life's passion using new technology in a multiple lens system. "With Macular Degeneration, a part of the retina is damaged and doesn't work the way it should," Dr. Cooper explained. "But thanks to recent advances in optics technology, special eyeglasses can magnify and focus what the patient looks at on a wider area of the retina, so portions of the eye that are still healthy can pick up what the damaged parts are missing." He continued, "With these glasses, people that are considered legally blind can see what they were missing, and with the right prescription and magnification, most can see even fine details like small newsprint. Each patient's glasses are custom-made just for them, so they get just the right correction for their particular needs."
Age-Related Macular Degeneration (ARMD) and Low Vision are serious vision-limiting conditions which affect millions of Americans of all ages, particularly those age 40 and older. ARMD and Low Vision don't just reduce sufferers' independence and quality of life; they are associated with earlier nursing home admissions, more frequent falls, higher incidence of hip fractures and death two years earlier than the average. Early diagnosis and treatment can greatly improve outcomes for Macular Degeneration and Low Vision sufferers, but many Americans aren't aware that help is available or haven't seen an eye care professional within the last year. To encourage those in need to seek help, Utah Optometrist and Low Vision Specialist Dr. Jared Cooper is offering FREE travel on home visits to patients anywhere in Utah and southern Idaho, and FREE 15-minute phone consultations to patients everywhere else during the month of February as part of The American Optometry Association's "Age-Related Macular Degeneration and Low Vision Awareness Month."
"Most people do not realize that there are doctors that are highly trained improving the visual symptoms associated with vision loss, my goal is to everything and anything possible to allow my patients to see well enough to do the things they want, this keeps them independent, safe, and living better quality of life" said Dr. Cooper. "I want to do what I can to get the word out about how important a low vision exam is, and to make it as easy as possible for patients to get the care they need. That's why I am willing to go see them in their homes at no extra charge if they can't come see me at my office, or to speak to them for free on the phone. If I can save even one patient from a fall or hip fracture that could have been prevented, it is worth it."
Dr. Jared L. Cooper is a Low Vision specialist who treats patients with Macular Degeneration and Low Vision throughout Utah, Southern Idaho, Montana and Wyoming. For more information on the latest Macular Degeneration and Low Vision treatments, including specialized eyeglasses with advanced optics, please visit http://www.drjaredcooper.com.