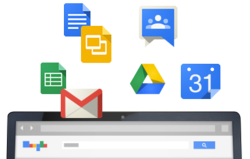 Multi-user editing in real-time is now available for Google Forms via the Google Apps suite.
UK (PRWEB UK) 5 February 2013
London: AppsCare® provide Google Apps, a cloud-based suite of collaborative tools to thousands of companies across the globe. Google Forms is a useful tool, part of the Google Apps suite which helps users plan events, send a survey or collect other information in an easy, streamlined way. Multiple AppsCare® customers are now able to work on the same form simultaneously, in real-time and even have a group chat on the side for discussion, without leaving the form.
In addition, Google has improved the editing functionality of Forms, which should make creating, and editing forms easier. All changes are now auto-saved (no more losing unsaved work), there is improved copy-and-paste from the web and keyboard shortcuts help get things done quicker.
Google Apps, a product sold by AppsCare® is the only 100% cloud based IT infrastructure and suite of collaborative tools, that enables employees to work the way they want. Apps allows users to work from any device, in any location and collaborate in real time with colleagues. AppsCare's customers can create, share, and edit documents with anyone, regardless of whether they have a Google account. Also, the ability to view document changes in real time – even those made by several people at once in the same document – has its advantages.
AppsCare®, Google Enterprise Premier Partner (powered by Netpremacy Global Services) is a world leader in cloud services provisions, supporting over 2500 customers in 33 countries. Their fortnightly newsletter provides latest industry news, tips and 'how to' features and useful information about cloud computing, to subscribe to their mailing list click here.