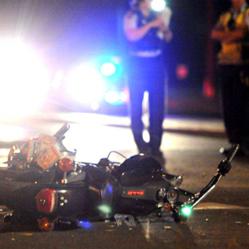 I also had to persuade him that accepting the initial £10,000 was simply unfair and that he should persevere. I promised him that more could be done, and we did it
Bolton, UK (PRWEB UK) 7 February 2013
After extensive negotiations and thorough legal work and research, Asons Solicitors has secured £24,000 in personal injury compensation for their client, Mr Safari.
Mr Safari, 24, was involved in a serious motorbike accident on Hereford Road, London, where another motorist in a car knocked him off his bike whilst passing through a set of traffic lights.
Mr Safari suffered multiple injuries across his body including a fractured right hand, soft tissue injuries to the hip and shoulder as well as a facial fracture. He later required two operations to rectify some of the damage endured.
Mr Stephen Mansfield, head of the Serious Injury Department at Asons Solicitors said that:
"This particular case was difficult and complicated. Aneel Javed, a Litigation Executive from my team, took the time to get things in order, whilst spending time with the client. The case was difficult to value given the multiple injuries. The client Specials had been negotiated and agreed at £3,065 and paid by the third party insurers"
The 'specials' were offered as reimbursement for the damage done to Mr Safari's motorcycle and protective wear. An initial offer of £10,000 was made to compensate Mr Safari for his injuries. After some consideration however, it was felt that this was not enough; so decisive negotiations ensued. The third party insurer raised their offer to £20,000 and then a second time to £21,000. When taken together with the initial 'specials', the overall value of the claim came to £24,000.
Commenting on his success, Mr Aneel Javed, a Litigation Executive at Asons, said:
"It was an interesting and difficult case. Mr Safari is Persian, so I spent a lot of time talking to him via an interpreter. We had lengthy discussions about the circumstances of the accident and his injuries; I also had to persuade him that accepting the initial £10,000 was simply unreasonable and that he should persevere. I promised him that more could be done, and we did it".
When discussing the final throws of the case, Mr Javed explained that the client was ' dumbfounded' when the offer of £20,000 was made, and 'ecstatic' when this was increased to £21,000.
Speaking on his experience with Asons Solicitors, through an interpreter, Mr Safari said:
"Aneel was able to turn my case around in just 6 weeks, from having received it, to receiving a settlement. I cannot praise his efforts enough. The damages I've received will help me get back on my feet and back on the road. I'm very thankful for his efforts"
If you'd like to find out more about Asons Solicitors, or if you would like advice concerning road accident compensation or personal injury claim; you can visit them at http://www.asons.co.uk, or you can contact them directly on 0844 850 1062.
Case Reference: 94177

About Asons Solicitors:
Asons Solicitors is a Bolton-based law practice that specialises in personal injury and industrial disease claims. Founded by brothers Imran Akram and Kamran Akram, Asons Solicitors has developed to become a young and dynamic law firm that delivers practical solutions to clients in times of difficulty. Their continued focus on their staff has seen them awarded with the Investors in People "Gold Award"; which is reflected in the professional and personable approach they take in working with clients. They strive to grow and to develop, and their supportiveness and attention to detail ensures that their clients use them time and again.
For further information contact:
Email: info(at)asons(dot)co(dot)uk
Website: http://www.asons.co.uk