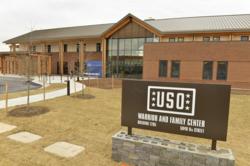 This building says in structure and activities what words can't say. We care about you, we love you, and we are going to be with you the entire way.
Arlington, Va. (PRWEB) February 05, 2013
Our nation's troops, returning wounded, ill and injured troops, their families and caregivers now have a new place to relax and heal with honor. Today the USO officially opened the largest USO Center in history. Under construction for a year, the USO Warrior and Family Center at Fort Belvoir, was specifically designed to promote a community of care and provide resources, programs and support to our men and women in uniform, especially our wounded, ill and injured troops as they prepare to return to active duty or transition to the next phase of life.
"This building says in structure and activities what words can't say," said Lieutenant General William J. Troy, Director of Army Staff. "We care about you, we love you, and we are going to be with you the entire way. This is the most eloquent testimony that there could ever be - that we care about our service members and their families."
The more than 20,000 square foot center is a place of relaxation and learning where our nation's heroes can enjoy a home cooked meal, their children can play, and families can begin to work toward their future in a positive and supportive environment. The center is strategically positioned on Fort Belvoir, adjacent to the Warrior Transition Unit Complex to serve the most important non-clinical needs of the patients and their families.
"Over the past few years I have been watching the USO's efforts evolve as they continue to provide for our service members, not just overseas, but in a very visible way stateside," said Colonel Gregory D. Gadson, Garrison Commander, Fort Belvoir. "I know that my family, and so many other families, are in a better place because of the efforts of the USO. There is a lot of personal emotion that I have, as I see this building...this Warrior and Family Center go up and now it's about to come alive with so much hope and so much promise."
Before the outline of the building was even put to paper, USO's design goals focused on the experience of wounded, ill and injured troops and their families. USO and design firm STUDIOS Architecture, interviewed wounded warriors and their families to find out what they needed most in the center. Huffman Developments and Quatrefoil, Inc. who also supported the project, included sound proof materials and special lighting for troops battling post traumatic stress and traumatic brain injury. The entire building is ADA compliant and is designed for LEED certification.
There are more than 20 unique spaces including a business center, dining room, art room, healing gardens as well as a game room and music room. These spaces provide troops and their families and caregivers the opportunity to learn, share and create memorable experiences. For example, in the Music Room "jam sessions" are encouraged as a creative outlet and opportunity to connect with other servicemen and women who are facing similar challenges. The Sports Lounge gives troops the chance to relax and socialize while enjoying a football game or playing their favorite course on the Full Swing Golf simulator.
"What you won't see (at the USO Warrior and Family Center at Fort Belvoir) are the names of nearly a quarter of a million individual Americans that have made a donation honoring wounded, ill and injured troops and their families to Operation Enduring Care. I think when we talk about this center being a gift from the American people that's what we are talking about," said Sloan Gibson USO CEO and President.
USO volunteers will serve as the backbone and heart of the USO Warrior and Family Center, as they do at the more than 160 USO locations across the globe. 350 volunteers from USO of Metropolitan Washington have committed to the Center and more than 125 have completed training. USO volunteers are trained not to be counselors, but recognize and identify early warning signs of stress and crisis that often accompany multiple deployments, traumatic brain injury and post traumatic stress. Volunteers are trained to engage in active listening, identify potential warning signs of stress, and provide service men and women with available resources.
"To our service members and their families and caregivers, welcome home. This is your home and what makes it that home is our volunteers," said Elaine Rogers, President and CEO, USO of Metropolitan Washington. "We had to recruit 350 volunteers to run this center and within the first week we had a hundred volunteers signed up and ready to go. So that's who is truly going to make this USO what it is today. It's our volunteers whether it's here or around the world."
The USO Warrior and Family Center Fort at Belvoir is the first of two centers to be completed in the United States. The second Center, located adjacent to the Walter Reed National Military Medical Center at Naval Support Activity Bethesda, Maryland is scheduled to be completed early 2014.
With the scope, scale and decades of dedication to this mission, the USO, through generous donations to the Operation Enduring Care campaign, is uniquely suited to meet the need of the nation's healing heroes and their families providing the essential resources and programs they need to continue their journey forward.
"Northrop Grumman and the Northrop Grumman Foundation are honored and proud to support the USO in the establishment of this center," said Wes Bush, Northrop Grumman chairman, chief executive officer and president. "The facility will provide vital services to our military heroes and their families in their time of need."
"Every since we were liberated in 1991 the relationship between the U.S. Armed Forces and Kuwait grew exponentially and today it is a very, very solid relationship," said His Excellency Sheikh Salem Abdullah Al-Jaber Al-Sabah, the Ambassador of the State of Kuwait. "To this day, a lot of the troops that have transited to Afghanistan transit through my country. So it is a very, very solid relationship and my wife and I were honored to play a small role in making this facility possible. The healing process of any warrior is not complete I believe if his family is not around."
The groundwork for the two Centers was laid by the following generous companies, foundations and individuals who are deeply committed to these buildings and to the future of the brave men and women who have selflessly sacrifice so much for this great nation:
Operation Enduring Care Donors: Northrop Grumman Foundation, The Kuwait America Foundation, The Anschutz Foundation, Jeep®, The Coca-Cola Foundation, Tim and Sue Timken, jcpenney, News Corporation, Lowe's, Mr. Charlie Sheen, BAE Systems, Inc, Newman's Own Foundation, and many others.
Fort Belvoir USO Warrior and Family Center Donors: Northrop Grumman Foundation, The Kuwait America Foundation, Jeep®, The Anschutz Foundation, Richard S. Reynolds Foundation, BNSF Foundation, Bob Woodruff Foundation, and many others.
The USO Warrior and Family Center at Fort Belvoir will be open daily from 6:00am-10:00pm. Eight staff members and approximately 350 volunteers will operate the Center. For more information about the Fort Belvoir USO Warrior and Family Center, as well as photos from today's event, click here.
# # #
About the USO
The USO lifts the spirits of America's troops and their families millions of times each year at hundreds of places worldwide. We provide a touch of home through centers at airports and military bases in the U.S. and abroad, top quality entertainment and innovative programs and services. We also provide critical support to those who need us most, including forward-deployed troops, military families, wounded warriors and families of the fallen. The USO is a private, non-profit organization, not a government agency. Our programs and services are made possible by the American people, support of our corporate partners and the dedication of our volunteers and staff.
In addition to individual donors and corporate sponsors, the USO is supported by President's Circle Partners: American Airlines, AT&T, Clear Channel, The Coca-Cola Company, jcpenney, Jeep, Kangaroo Express, Kroger, Lowe's, Northrop Grumman Corporation, Procter & Gamble, and TriWest Healthcare Alliance and Worldwide Strategic Partners: BAE Systems, The Boeing Company, Lockheed Martin, Microsoft Corporation and TKS Telepost Kabel-Service Kaiserslautern GmbH & Co. KG. We are also supported through the United Way and Combined Federal Campaign (CFC-11381). To join us in this patriotic mission, and to learn more about the USO, please visit uso.org.