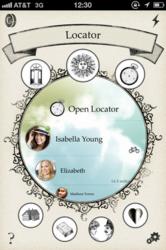 You never know who'll cross your path today!
Singapore, Singapore (PRWEB) February 06, 2013
ROIKMYERS Pte. Ltd., an emerging mobile applications and lifestyle solutions start-up, is excited to announce the launch of a newly updated version of Haloo onto the App Store. Compatible with the iPhone, iPad, and iPod touch, this innovative mobile dating platform gives users the power to connect with eligible bachelors and bachelorettes close to them. Perfect for tech savvy singles looking to flirt, chat, or simply hook up, the app boasts flexible text messenger and media sharing options together with a GPS enabled social discovery engine and more, all wrapped around a beautifully intuitive interface. Recently updated to optimize its overall user experience Haloo is currently available for download on the App Store for free in the Social Networking category.
You might not know who's around you, but that doesn't mean it has to stay that way. Change things up and say hello with Haloo. Blending the lines between dating app, social discovery solution, and fling finder, Haloo gives users the tools to find specific people or connect with random users via chat, join Funnels (group chats that let all users in a given proximity to get together and talk), or get right to the point and have a spontaneous flirt filled Encounter! Users can also ensure they don't miss a step on crossing paths with new and interesting people everyday via customizable notifications that let them know when other Haloo'ers close by want to chat, and when their favorite users are around them. Users can also unlock a myriad of powerful bonus connection features by either buying and spending Haloo coins, or taking the plunge and subscribing to Haloo Premium to unlock the app's full power for anywhere from one to six months at a time.
Unlockable features give users more options than ever to filter themselves, keep their profile secure, and get noticed on other radar of the Haloo community. Regardless though, whether Haloo'ers get in on the action to, find friends, love, or a no-strings-attached hook up, they can do just that. Added features let users share photos and videos with one another, broadcast themselves to let the Haloo nation know they want to connect! Users can even filter what users they meet by personal preference in height, weight, and more. Not to worry though, this isn't eHarmony - everyone's welcome to join. Complete with different app skins for male and female users and notifications made to let users stay connected without being glued to their mobile devices, Haloo is here to let everyone that's ready do something different and discover new people every day. There's no reason to wait, let's get a new conversation started.