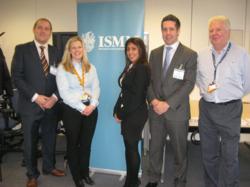 Pareto have been an absolutel pleasure to work with and very professional and every stage. We look forward to the rest of the programme and the successful results we feel will be gained from this.
Wilmslow, Cheshire (PRWEB UK) 5 February 2013
The Pareto sales transformation team have launched a bespoke sales training and accreditation programme, designed to develop the existing sales team in place at EDF Energy in a bid to support learning and development initiatives in place within the organisation.
Launched on 16th January, the programme will deliver 4 tailored training modules to 36 learners, split into 3 cohorts of 12, covering a variety of skills required to achieve sales excellence. Content will focus around influencing buyer behaviour, handling objections, negotiation and closing sales, law and ethics and the preparation and delivery of sales presentations. Pareto's dedicated internal sales training team have a proven track record for improving sales performance and creating sustainability through the development of frameworks for skills and competencies, and have designed all content in close partnership with EDF to ensure the needs of the organisation are met at every stage.
Learners began undertaking course content on 29th January and will continue to progress through the programme in individual cohorts for 6 months, with the final group completing all modules by August 2013. Upon completion, learners will be assessed by Pareto's appointed Internal Quality Assessor (IQA) John Holton, using a variety of methods including role plays, presentations and written assessments. Successful learners will subsequently be awarded sales accreditation in the form of the ISMM Level 3 Certification.
"I worked very closely with John Holton from Pareto leading up to the ISMM Level 3 Certification programme. John has truly worked in partnership with us, bringing along his expertise to guide the way at every step. Pareto have been an absolute pleasure to work with and very professional at every stage," states EDF Learning and Development Specialist Kate Wheeler.
"The launch event was held at our office on 16th January with the support of Pareto. This went down really well and the team feel highly valued and excited for their learning journey to commence. The first training event was subsequently undertaken last week and initial feedback has been fantastic. The trainer made it real for the delegates, and expectations for the remainder of the course have been clearly been highlighted. We look forward to the rest of the programme and the successful results we feel will be gained from this."
Pareto is set to deliver all sales training for the EDF accreditation programme, along with support days for all learners over the course of 2013. The organisations will continue to work in close partnership to ensure the continued success of the development programme, which supplements previous training initiatives undertaken between Pareto and EDF over the past few years.
About Pareto Law:
Pareto Law is the UK's biggest and most successful sales enhancement company: the authority on sales, no less, since 1995. Pareto brings companies the 20% of the sales team that makes 80% of the difference.
The Pareto Effect can be experienced in many ways and it can have a remarkable, measurable effect on your business. Pareto delivers this effect through four key elements – Sales Recruitment, Sales Training, Executive Recruitment and Accolade Sales Transformation, the assessment and accreditation service that delivers sales excellence.