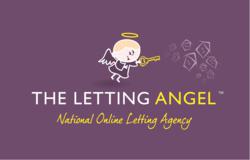 In celebration of our recent national launch, we decided to give away £100,000 in advertising to UK's landlord community. From today, we will be allowing in excess of 1,300 ads to be posted at no cost for the entire month of February.
on Trent, Nottingham, Northampton, Leicester, Cardiff, Bristol, Reading, Brighton, Sheffield (PRWEB UK) 6 February 2013
National Release, London, Birmingham, Manchester, Liverpool, Leeds, Derby, Stoke Staffordshire based entrepreneur Kerry Shufflebotham launches The Letting Angel nationally this week. An online letting agency where landlords choose to advertise their properties on major portals such as Rightmove and Zoopla from £49.
Managing Director, Kerry Shufflebotham has vast experience within the property industry as a successful business owner, ventures include Staffordshire based Cherry Tree Property Consultants and as a private landlord with her own property portfolio.
The Letting Angel's aim is to work with the landlord and allow them remain in control. The private landlord can choose the services they require, from advertising their property, vetting their tenants through to full property management. Therefore remaining in control of the letting process and meeting their potential tenants prior to any contracts signed.
Kerry Shufflebotham, Managing Director of The Letting Angel explains more:
"With thelettingangel.co.uk we have looked long and hard at the letting market, and with our experience and understanding, we believe this truly is the answer to every landlord's prayers. The website allows landlords to upload their properties, then simply choose the advertising option which suits them. You can start marketing your property on Rightmove, Zoopla, Primelocation, Findaproperty and many more property portals from as little as £49. This represents a massive saving compared to the traditional high street agent and keeps the landlord in control of who their property is let to."
Kerry explains how she is adding more value to the private landlord than ever before this month.
"In celebration of our recent national launch, we decided to give away £100,000 in free advertising to UK's landlord community. From today, we will be allowing in excess of 1,300 ads to be posted at no cost for the entire month of February, enabling landlords across the UK to advertise as many vacant properties as they wish totally free for the month of February 2013. Its simple to take advantage of the offer, landlord's register on http://www.thelettingangel.co.uk and click 'Add Property' and choose the Silver or Bronze service at no charge to them, both these services rival any high street let only or tenant find service."
The lettings market and high street letting agents have been under scrutiny in the press for some time regarding unfair charges to the tenant and Kerry explains how thelettingangel.co.uk overcomes this stigma.
"It is no secret that landlord's want quality referenced tenants that's why they use an agent, there should always be a place for the high street agent for a certain type of landlord, one who wants very little involvement in the letting process. It is also true, they are sometimes unaware that their prospective tenants are even being charged administration charges by their chosen agent. In some cases this can be two hundred and sometimes three hundred pounds. Our aim is to be transparent, the administration charge per tenant with us is £45 per person which covers everything on the tenant side. This is great value for the tenant and as a result the number of enquiries on properties advertised with us is far greater. The feedback with have received so far has been fantastic both landlords and tenants want to use the site and this is one of the reasons we are letting properties fast."
The internet is changing the shape of British Business and the trend continues to reveal how high street retailing is being replaced by online options. The Letting Angel has grasped this concept and offers a full service agency option to every landlord that saves them money. With their online strategy, they are able to offer the services on national bases.
The Letting Angel understands the future of the letting industry and coupled with their accreditation and SAFE agent status, there seems no reason not to advertise your property with them plus they offer a money full money back guarantee.
To advertise your property with The Letting Angel you can upload your property at http://www.thelettingangel.co.uk or call their team on 0330 123 0133. On the site they even have a full animation video which explains the process and how they work.