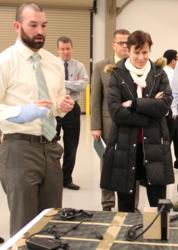 ABERDEEN PROVING GROUND, Md. (PRWEB) February 05, 2013
Kate Kaufer, professional staffer from the Senate Appropriations Committee – Defense, visited the U.S. Army Research, Development and Engineering Command to see its latest technologies here Jan. 4.
Kaufer visited labs at RDECOM's Communications-Electronics Research, Development and Engineering Center and Army Research Laboratory.
Kaufer received an overview of CERDEC's core technical capabilities focusing on power, communications and intelligence. She visited the CERDEC's Command, Power and Integration Directorate for a tour of ongoing operational energy efforts and the center's C4ISR Systems Integration Laboratory, a state-of-the-art Agile Process hub for lab-based risk reduction, used to fully integrate systems, troubleshoot, configure and baseline the network in preparation for the live Network Integration Evaluations at White Sands Missile Range, N.M. Kaufer ended her tour of the center with a live demonstration of work being done by CERDEC's Intelligence and Information Warfare Directorate, PM DCGS-A and Palantir under a Cooperative Research and Development Agreement (CRADA) aimed at facilitating interoperability between DCGS-A and Palantir.