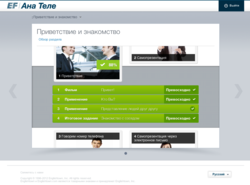 Tatarstan has a 21st century vision for its citizens, and this is truly a unique collaboration
London, England (PRWEB UK) 6 February 2013
EF Education First announced today the launch of a new online language school called Ana Tele, focused on the Tatar language, one of two official languages spoken in Tatarstan, a republic of the Russian Federation and one of its most economically developed.
The school, which is delivered entirely from "the Cloud", provides not only Tatarstan citizens but anyone interested in the Tatar culture and language, with free language training, 24 hours and 7 days a week anywhere in the world. Ana Tele was developed through collaboration between Tatarstan and EF linguists, developers and other specialists, and is based upon EF's award winning EF Efekta™ platform.
The Ana Tele school consists of nine language levels, with a structured learning path and study materials consisting of lessons, videos, audios, grammar, pronunciation exercises, and speaking practice. With the school now open for the first level and the initial ten thousand students, subsequent levels will be enabled along with additional students during 2013. The option of live speaking classes with native Tatar speakers will also be provided; all delivered virtually from "the Cloud".
"Tatarstan has a 21st century vision for its citizens, and this is truly a unique collaboration", stated Peter Burman, President EF Education First. "Seeing English as a key enabler of its economy in the future, we are already a partner helping deliver English language training to the entire country. Now using the same EF Efekta™ language platform we are also able to help them preserve their historical roots, culture and heritage by encouraging a whole new generation to learn and enjoy the native Tatar language".
About Ana Tele
Ana Tele school web-site: http://anatele.ef.com
About EF Education First
Established in 1965 with the mission to "break down barriers in language, culture, and geography", EF Education First (EF) is the world's leading international education company. EF (http://www.ef.com) has helped millions of students, and thousands of companies and organizations learn a new language. EF is the Official Language Supplier of the XXII Olympic Winter Games in Sochi 2014 and has published the ground-breaking English Proficiency Index (http://www.ef.com/epi ) which measures the English ability of adults in different countries across the world.