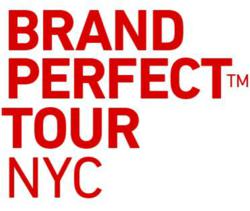 Delegates will learn how brands such as Condé Nast and American Express are moving from traditional to interactive media, and how publishing is changing to offer new approaches to advertising and content delivery," said Julie Strawson of Monotype.
New York, New York (PRWEB) February 05, 2013
The Brand Perfect Tour is returning to New York City with two events to help demystify brand management in an age where publishers are communicating across multiple platforms: from print and digital publishing to tablets and smartphones. The events, Design for Publishing and Adventures in Publishing, are intended for senior management, designers and developers working in brands and agencies who want to sharpen their creative skills and deliver compelling cross-platform brand strategies.
The first event, Design for Publishing, will be held Feb. 6 at New York's Studio Arte, featuring an evening of discussion on the latest strategies for delivering great multi-channel reading experiences and improving the performance of advertising in publishing. Celebrated publishing designers including Mario Garcia and Robert Newman will share their perspectives on the intersection of design and technology, and how that is influencing publishing and the publishing culture.
The signature Brand Perfect event, Adventures in Publishing, will be held Feb. 8 at the Condé Nast Building. Bringing together leaders from the publishing and technology fields, the day-long event will include a master class that will help attendees create an advertising and content strategy, and learn how publishers can deliver a seamless brand experience regardless of where customers begin their journey.
Cameron Connors, executive director of The Studio at Condé Nast, and Wyatt Mitchell, creative director of The New Yorker, will deliver the keynote address, sharing how a leading publisher has taken its brand across media formats to deliver successful campaigns and interactions, wherever the reader engages. Read the Brand Perfect interview with Connors here, in which he explains how the proliferation of mobile devices and platforms has changed the user experience and inspired his team to broaden its technical and design expertise.
Jennifer Eldin of American Express OPEN will describe how the community she created is helping small business owners succeed by evolving from a campaign-based mindset to a community-oriented digital newsroom. Katrina Dodd, consultant for Contagious Communications will shed light on the rapidly evolving publishing industry, where established players find themselves competing for customer loyalty with tech companies, start-ups and authors.
The event also will feature Dan Rhatigan, type director at Monotype , who will lead The Brand Perfect Master Class. Attendees will experience a hands-on exercise that walks them through the multi-disciplinary process of conceptualizing and designing a brief suitable for cross-media execution.
Attendees will apply lessons from the master class to support the INSP (International Network of Street Papers), an organization that supports and develops over 120 street press projects in 40 countries to create employment and training opportunities for homeless people. Delegates will pool their talents to create a brand experience for INSP that can be carried across different platforms. The brief will be critiqued by Brand Perfect community design and development experts Chris Liu and Jesús Gorriti of Fjord.
About Brand Perfect
Brand Perfect is a Monotype initiative that serves as a collaborative think tank to help brands learn new cross-media marketing techniques. To learn more about the Brand Perfect event or join the Brand Perfect community to share ideas, advice and best practices, visit: http://brandperfect.org/.
Follow us on Twitter: @brandperfect and Tweet your questions to the floor #brandperfect
About Condé Nast
Condé Nast is home to some of the world's most celebrated media brands. In the U.S., Condé Nast publishes 18 consumer magazines, four business-to-business publications, 27 websites, and more than 50 apps for mobile and tablet devices, all of which define excellence in their categories. The company also owns Fairchild Fashion Media (FFM), whose portfolio of brands serves as the leading source of news and analysis for the global fashion community. Condé Nast has won more National Magazine Awards over the past 10 years than all of its competitors combined. For more information, visit condenast.com or follow us on Twitter @CondeNastCorp.
About Monotype
Monotype is a leading global provider of typefaces, technology and expertise that enable the best user experience and ensure brand integrity. Based in Woburn, Mass., Monotype provides customers worldwide with typeface solutions for a broad range of creative applications and consumer devices. The company's library and e-commerce sites are home to many of the most widely used typefaces – including the Helvetica®, Frutiger® and Univers® families – as well as the next generation of type designs. Further information is available at http://www.monotype.com.
Monotype, Helvetica and Frutiger are trademarks of Monotype Imaging Inc. registered in the U.S. Patent and Trademark Office and may be registered in certain jurisdictions. Brand Perfect is a trademark of Monotype Imaging Inc. Univers is a trademark of Linotype GmbH registered in the U.S. Patent and Trademark Office and may be registered in certain jurisdictions. All other trademarks are the property of their respective owners. ©2013 Monotype Imaging Holdings Inc. All rights reserved.
Contact:
Monotype
Vikki Quick, 781-970-6115
vikki(dot)quick(at)monotype(dot)com
Monotype U.K,
Julie Strawson, 44 (0) 1737-781624
Julie(dot)Strawson(at)monotype(dot)com
Linotype GmbH
Vera Faller (0) 89 / 41 95 99 15
vera(dot)faller(at)maisberger(dot)com
SOURCE: Monotype Imaging