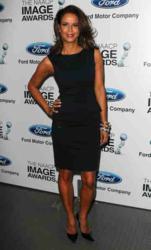 ...although we comprise a little more than a tenth of the U.S. population, roughly half of all reality shows on TV are made up of all black or partially black casts whose behavior reinforces damaging stereotypes.
Los Angeles, CA (PRWEB) February 06, 2013
Sil Lai Abrams, anti-domestic violence activist and founder of the media advocacy organization Truth in Reality, announced the launch of the "Responsible Reality TV Movement" during the 9th Annual NAACP Hollywood Bureau Symposium this past Tuesday, January 29th. The movement targets both cable networks and media consumers in its mission to change the harmful ways interpersonal violence and Black women are portrayed in reality television.
The Symposium, entitled "Images of Women and Media: A Look Behind the Curtain", took place at the Museum of Tolerance before an audience of over 400 attendees. Abrams, a NABJ-award winning writer, speaker, and anti-domestic violence activist, discussed the predominately negative representation of Black women on reality television and how these images are impacting the Black community amongst fellow panelists that included Braxton Family Values reality star Towanda Braxton, filmmaker Neema Barnette, television producer Debra Martin Chase, and Madeline Di Nonno, Executive Director of the Geena Davis Institute on Gender in Media.
Recent studies have shown that negative reality shows have an adverse effect on the emotional development of girls and young women, and can predispose men to violent behavior towards women. However, in recent years, cable networks have been increasingly rewarding and encouraging violent behavior between cast members. Roughly half of all reality shows feature Black cast remembers whose behaviors reinforce damaging stereotypes that help perpetuate interpersonal violence within the Black community.
Truth in Reality's Responsible Reality TV movement includes the Truth in Reality Media Advocacy Toolkit for media consumers and the "Principles of Responsible Reality TV" for cable networks and television production companies. The toolkit, available for download at no cost on the Truth in Reality website, provides media consumers, churches and other community-based organizations a step-by-step social action template they can use to take a stand against violent reality TV programming. As part of their advocacy efforts, Truth in Reality is encouraging cable networks to implement their "Principles of Responsible Reality TV", with the goal of changing the existing broadcast standards and practices of cable television:
Principles of Responsible Reality

Acts of bullying and domestic violence will not be televised. Violence may be intimated but not aired.
Reality show cast members agree to sign a pledge committing to not engage in acts of physical violence while filming. Any participant who violates this pledge will be immediately fired from the show and subject to potential criminal and/or civil penalties.
Reality production teams will no longer hire official security detail in order to protect reality cast members during filming, as presence of on-set security teams implies the expectation of physical violence between cast members.
For additional information on Truth in Reality or to download their Media Advocacy Toolkit, please visit TruthInReality.org.
***
About Truth in Reality
The mission of Truth in Reality is to change the way Black women and interpersonal violence are portrayed on reality television. Our goal is to challenge the negative values these shows promote and change the standards of broadcast practices for the unscripted television genre. Through digital activism, public awareness campaigns and educational programs we aim to change society's acceptance of interpersonal violence and ultimately reduce its incidence in the Black community.
Media Contact:
Shiran Lugashi
shiran(at)truthinreality(dot)org
347-903-5490