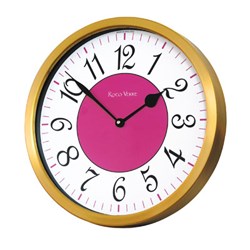 this new range of wall clocks from Roco Verre combines both modern and vintage styles.
(PRWEB) February 07, 2013
Inspired by current trends, this new range of wall clocks from Roco Verre combines both modern and vintage styles. Central to the design are the classic French style numbers, which are fairly large for legibility and have chic curves and swirls. These combine beautifully with the organic and shapely black hands which have very dainty points, giving the clocks a vintage air. Simple lines have been placed around the circumference to represent hour and minute markings, making this range of clocks very practical as well as decorative. To finish the design, a large central circle of block colour provides the simplistic modern twist the clocks need.
Available in eighteen different variations, this new range of wall clocks has three case options and six coloured dial choices for easy customisation. The dials are available in a neutral vanilla cream, a deep indigo blue, bright cerise pink, warm strawberry red, subtle apricot orange and a zesty bold lime green. The case options available are polished metal, satin white metal and luxury brushed brass which can be combined with any dial colour. The polished and white case options are both £49.95, whereas the brushed brass case option is £59.95 due to the incorporation of the opulent and higher end real brass surround. Radio controlled movements are also available on these clocks in place of the normal high torque quartz movements and can be purchased on demand.
Some recent product development has taken place on the Roco Verre range, leading to the creation of a Modern Vintage collection of wall clocks and mantel clocks. Stylish yet simple clocks are very much in demand and wide choice is very much appreciated by customers, so the collection includes a wide array of possible colour combinations. Furthermore, if the colour desired is not currently manufactured, one-off clocks are a possibility. Included in the Modern Vintage collection so far is the French Numbers Wall Clock, the Latin Roman Orion Wall Clock, the Latin Roman Mirror Wall Clock and the 45cm Modern Vintage Roman Mirror Clock with black numerals.
About the Company:
Contemporary Heaven is a Hertfordshire based retailer and manufacturer with online outlets in the UK, Holland, France, Germany, Poland and the US. They are a subsidiary of Roco Verre LTD which has been in existence for more than 15 years, supplying a range of home accessories to retailers, businesses and individuals. Their range of home accessories includes modern clocks, custom time zone clocks, personalised school clocks, coasters and placemats, unusual wall mirrors, storage solutions, contemporary lighting, bathroom accessories, barware and much more.
For more information, visit http://www.contemporaryheaven.co.uk
Contact Details:
Roco Verre Ltd
Contemporary Heaven Division
68 Wilbury Way
Hitchin
Herts
Ph.: 44 (0)1462 451199