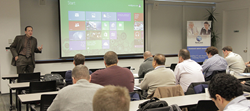 We are very proud to partner with Microsoft and to present these informational seminars on Microsoft's new technologies helping IT professionals and companies become familiar with new opportunities in IT business solutions
New York, NY (PRWEB) February 05, 2013
NetCom Learning, Microsoft Worldwide Training Partner of Year, recently held one of a series of complimentary seminars as part of "What's New in Microsoft Technologies", on Wednesday, January 23, 2013 in Chevy Chase, Maryland. The seminar was very well attended by decision makes and professionals from Fortune 500 organizations such as IBM, HP, General Dynamics, Lockheed Martin and top government agencies. The seminar focused on Windows Server 2012 & Windows 8, and featured presentations by NetCom Learning Technical Trainer and IT Consultant Victor Utz. NetCom Learning's location in Washington DC metro at 1100 North Glebe Road, Suite GR-3 in Arlington, VA offers its top notch IT security training classes such as Security+, CISSP and CEH, to prepare companies for these security risks, as well as more than 1,000 IT and business training courses.
Microsoft Special Guest Speakers, Paul Schenkel, Microsoft Sales Manager, Partner Hosting & Cloud Services, and Jose Soto, Microsoft Devices expert for Microsoft Store enlighten the seminar with informative content in Microsoft's newest products and certifications. The all-day seminar was held at the beautiful Microsoft Washington DC area office.
The new technology launches and application enhancements from Microsoft provide IT professionals, corporations, business owners, managers, and executives with new ways to drive innovation, improve communication and customer service, provide better decision making tools, and increase work efficiencies. NetCom Learning as a Microsoft Worldwide Learning Partner of the Year can help corporations and organizations to keep their staff up to date on the new Microsoft technologies so that the full benefits of these new products and product enhancements can be put to work to keep organizations competitive and to help grow the business.
"We are very proud to partner with Microsoft and to present these informational seminars on Microsoft's new technologies helping IT professionals and companies become familiar with new opportunities in IT business solutions," said Russell Sarder, CEO of NetCom Learning. "Presenting free informational seminars for the public is part of our commitment as a company to the learning movement we have created here at NetCom Learning," said Sarder.
The one day event covered What's New in Windows Server 2012, including an overview of the gains in efficiency of Windows Server 2012 over Windows Server 2008, changes and enhancements in Active Directory, Dynamic Access Control, Remote Access, Storage, Networking, and Organizational benefits. The presentation given by NetCom Learning Technical Trainer, Victor Utz, also provided a look at Windows Server 2012 certification.The Windows Server 2012 Seminar provided an overview of the operating system's new features which have redefined the server category. The software allows companies from small businesses to the largest datacenters take advantage of improvements in networking, user experience, storage, cloud computing, and automation. The Microsoft Windows 8 OS presentation provides an overview of the application's new focus on mobile devices, cloud computing, and embedded antivirus software which provides important changes for IT professionals and end users.
In a presentation also given by Victor Utz, the key features in Windows 8 Operating System were discussed including side loading applications, user interface improvements, and support for tablet devices, security enhancements, Cloud interaction and improved deployment and migration features. An overview of Windows 8 certification was also provided.
Paul Schenkel, a Microsoft Sales Manager, provided a well attended highly informational discussion on Cloud computing, including how businesses can stay current, take advantage of market opportunities, and protect their current investments in software while making the most of the Cloud computing opportunity. Paul also discussed some of the new Microsoft certifications that are now available.
The final presentation of the day was given by Jose Soto, who provided an interactive demonstration of new Microsoft gadgets including the Surface Tablet and Windows 8.
As part of NetCom Learning's commitment to learning, the company has created a Learning Movement in an effort to increase knowledge and help entrepreneurs; companies and individuals improve their lives and grow their businesses. The movement includes the launching of Sarder TV, a video based product where individuals can watch interviews with company executives, well known educators and heads of organizations talk about how they became successful, the importance of mentors, and what part learning played in the development of an individual and the growth of a company.
The webinars and events are open to any individual or organization that is forward thinking and wants to be involved and ready for the new era in technology. These educational opportunities provide information on how best to utilize the new communication and technological tools. The events are important for anyone who is interested in pursuing a career in IT, professionals already working in the field of IT, and business professionals who are interested in growing their businesses. By gaining new technology skills, individuals can help close the skills gap currently affecting IT companies across the world.
NetCom Learning will be continuing to offer additional "What's New in Microsoft Technologies"
Upcoming events include:

Lync Server 2013 Part 2 | Architecture and Deployment Changes on Feb 7
Introduction to Windows 8 Development - C# with Live Demo on Feb 12
Microsoft SQL Server 2012 | Business Intelligence & Cloud Solutions on Feb 28
Lync Server 2013 Part 3 | Integration and Extensibility on Mar 14
In addition, NetCom Learning is providing videos from past events which are available on the NetCom Learning website at http://mkt.netcomlearning.com/Microsoft_Event_Series.html.
To register for an upcoming complimentary event visit http://mkt.netcomlearning.com/Microsoft_Event_Series.html
NetCom Learning invites qualified Microsoft certified instructors to apply to be involved in future seminar events. In addition, NetCom Learning invites additional corporate sponsors interested in having a presence at these successful all day events to contact NetCom Learning at (212) 629-7265 or http://mkt.netcomlearning.com/20130131MSEvent_MicrosoftTechnologiesOverview.html.
About NetCom Learning
NetCom Learning is an innovative leader in IT, business and executive training to companies, individuals, and government agencies. Since its inception in 1998, NetCom Learning has trained over 80 percent of the Fortune 100, serviced over 45,500 business customers, and advanced the skills of more than 71,000 professionals through hands-on, expert-led training, with the organization maintaining an average instructor evaluation score of 8.6 out of 9. NetCom Learning was recognized by Microsoft Corporation as its Worldwide Training Partner of the Year and named thrice to Inc. Magazine's list of fastest growing private companies in America. The organization was also recently named to the 2012 Top 20 IT Training Companies by TrainingIndustry.com and was named "Company of the Year" by the American Business Awards.
The purpose of NetCom Learning is to promote the values of lifelong learning.