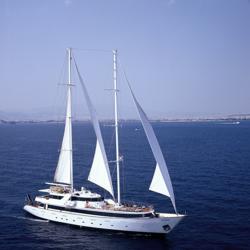 The best part of traveling with IE is their knowledgeable guides. It's not that they just live in the area, they grew up in the region.
Helena, AL (PRWEB) February 05, 2013
International Expeditions has announced plans to expand their offering of small-ship expedition cruises for 2013. In addition to year-round journeys to the Amazon River and Galapagos Islands, the company will operate a Turkey and Greece cruise aboard the 42-guest Panorama II departing September 15, 2013. Each small-ship expedition is led by knowledgeable expedition leaders and guides who help travelers delve into the nature, history and cultures of places visited.
"The best part of traveling with IE is their knowledgeable guides," said Amazon guest Bill Anderson of Jonesborough, Tenn. "It's not that they just live in the area, they grew up in the region."
Designed for history and archaeology enthusiasts, International Expeditions' Turkey & Greece journey spans centuries of history and culture along the ancient Turquoise Coast and Greek Isles. IE's 12-day cruise offers an immersive survey of the region, from Bronze Age shipwrecks at Bodrum's Underwater Archaeological Museum to an unexcavated acropolis in remote Lindos. Highlighting the tour are archaeologist-guided explorations of sites which were part of the Seven Wonders of the Ancient World — the Colossus of Rhodes, Mausoleum of Halicarnassus and Temple of Artemis. Guests also enjoy swimming off secluded coves and beaches, time to sample food at a local taverna and independent exploration. Prices for the September Turkey & Greece cruise start at $4,798.
Daily outings on IE's small-ship Amazon River cruise take travelers deep into the Pacaya-Samiria National Reserve to spot diverse wildlife, hike into the rainforest, and even fish for piranha. During excursions into narrow tributaries, guests may spot more than 100 kinds of birds, pink and gray river dolphins, sloths and nocturnal animals. Amazon cruise passengers also spend time with Ribereños in remote river villages, handing out school supplies to children and meeting with a local shaman. IE will launch its new custom-designed riverboat beginning in summer 2013. Prices for 2013 Amazon River cruises start at $3,898.
On the Galapagos Islands cruise, IE's newly renovated 32-guest yacht M/V Evolution navigates to captivating islands, where the small group size allows for easy access to the wildlife and more personal attention than guests find aboard large ships. In addition to daily snorkeling and hiking, other highlights include a visit to the Charles Darwin Research Center, famous for its tortoise breeding programs; an exploration of Fernandina Island, a haven for flightless cormorants; and a sailing to iconic Kicker Rock. Highly trained Galapagos naturalist guides enhance travelers' experiences by sharing their in-depth knowledge and bringing guests within inches of giant tortoises, blue-footed boobies, sea lions, penguins and other animals. Prices for 2013 Galapagos Islands expedition cruises start at $5,098.
For more information or a brochure, call International Expeditions at 1-800-234-9620 or visit http://www.IEtravel.com.
Celebrating 33 years of nature travel, International Expeditions specializes in small-group journeys to Earth's most exhilarating destinations. A pioneer of environmentally responsible travel, IE is committed to preserving natural habitats and improving the welfare of the people and communities it visits. International Expeditions has been named to Travel + Leisure's list of "World's Best" tour operators & safari outfitters for seven years and to National Geographic ADVENTURE magazine's list of "Best Adventure Travel Companies on Earth."