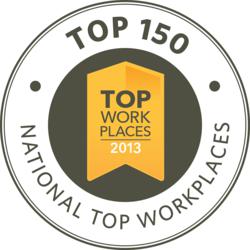 We are a Top Workplace for many reasons, but the main reason is our employees' dedication to go the extra mile for our members.
Dayton, Ohio (PRWEB) February 05, 2013
CareSource, a non-profit, Medicaid managed care plan, has been named to America's Top Workplaces list by WorkplaceDynamics. CareSource was ranked #81 nationwide among 872 organizations with more than 1,000 employees. The list was narrowed down to the top 150 companies and CareSource was only one of two companies recognized from Dayton.
The National Top Workplaces list was determined by feedback gathered through an objective employee survey. The survey was conducted last fall by WorkplaceDynamics, LLP, the leading on-demand employee survey provider, in conjunction with 30 leading regional newspapers.
For the last two years, CareSource has participated in the Dayton Daily News and Springfield News-Sun's Top Workplaces program and this year ranked second in the large business category list. Pamela Morris, President and CEO at CareSource, was also recognized for her leadership as a result of high employee survey scores.
"I am extremely proud of our culture and commitment to helping those in need," Morris said. "We are a Top Workplace for many reasons, but the main reason is our employees' dedication to go the extra mile for our members."
The survey, which received an overwhelming response rate of 82%, measured qualities such as company leadership, compensation and training, workplace flexibility and diversity.
Employees surveyed said:

"CareSource works toward their vision by working together as a team to help the underserved. In return, it makes me feel good about myself and what I do for others."
"Everyone is sincerely doing what is best for our members, for the employees and for the company as a whole, and creating an environment that encourages personal growth."
"CareSource encourages you to think outside the box. It's amazing when I'm told my view matters how the creative energy flows!"
CareSource joins the ranks of other successful and well-respected businesses like Edward Jones, CareerBuilder.com and Microsoft Corporation.
About CareSource
CareSource is a non-profit health plan headquartered in Dayton, Ohio. As the 2nd largest Medicaid managed care plan in the country, CareSource understands the challenges consumers face navigating the health system. We are committed to putting health care within reach for approximately 900,000 members we serve in Ohio and Kentucky. For more information, visit http://www.caresource.com.
###