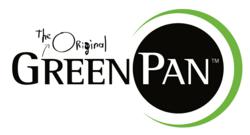 We take great pride in the awards we have won for our innovative, high quality products and we are delighted to see the growing awareness among consumers for products that promote healthy and sustainable lifestyles
TARRYTOWN, N.Y. (PRWEB) February 06, 2013
Amidst fast-rising acclaim and consumer praise around the world, GreenPan, a line of high-quality, PTFE-free cookware from international household product developer and manufacturer, The Cookware Company, is making ceramic the new standard in cookware.
Available in more than 80 countries, GreenPan has found success with cooking pans that are consistently purchased over other brands, making them the top-selling, non-stick, ceramic cookware in the world. Industry experts agree ceramic is more than just a fad – it is the future of cookware worldwide.
Recognized "Best in Europe" as the pioneer and preferred ceramic brand, GreenPan has won numerous awards for its innovative Thermolon™ non-stick coating technology, including the 2011 Excellence in Cookware Award. All GreenPan products are designed in Belgium and made of 100% recycled post-consumer aluminum. In independent tests, Thermolon has been shown to be a better conductor of heat than others brands of ceramic-coated cookware.
"We take great pride in the awards we have won for our innovative, high quality products and we are delighted to see the growing awareness among consumers for products that promote healthy and sustainable lifestyles," said Dieter Naessens, Executive Vice President of Sales in Europe and the Americas. "As a company, we have adopted a very special symbol, the GreenPan Green Apple, to make the healthy, safe cookware choice easier for the consumer."
GreenPan's product lines and categories are changing the way people are cooking at home by adding everyday convenience to high-quality ceramic cookware. In fact, in countries all around Europe, GreenPan keeps systematically topping all brands, including higher-priced ceramic-coated pots and pans in direct head-to-head product tests.
Building on its international success, GreenPan aims to be the leading innovator and the healthiest cookware company in the world. "Millions of consumers in the U.S. and abroad already recognize that ceramic is not just a fad," said Naessens, "and, as Europeans have already discovered, GreenPan ceramic cookware is a vital component of an overall healthy lifestyle."
GreenPan creates many product categories for the everyday, at-home gourmet chef, including Cookware, Professional Cookware, Ovenware, Electrics, Essentials and Accessories. GreenPan products are PTFE free. The company's cookware products are healthy, safe and do not release toxic fumes.
Readers who would like to learn more about GreenPan and to explore the brand's extensive line of products are invited to visit http://www.green-pan.us
EDITOR'S NOTE: To speak with a GreenPan spokesperson, or to learn more about GreenPan and its cookware products, please contact Pamela Wadler or Nancy Trent at (212) 966-0024.