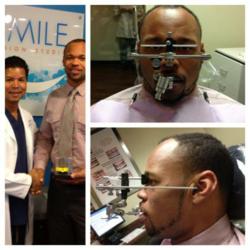 Dr Wright and his dedicated team have tested and proven this product's effectiveness using professional athletes and student athletes alike over the most recent years.
Bethesda, MD (PRWEB) February 07, 2013
Concussions, injuries to the skull, upper vertebrae and the jawline are major physical complications that have attracted media attention in recent times.
Dr Michael Wright is a former athlete, active sports player, dentist and prosthodontist with a clinic in downtown Bethesda Maryland called Smiles Design Studio. He has passionately decided to tackle these issues head on. Dr Wright and his professional team of dentists are working on solutions to impact injury for the teeth, jaw and head. They have spent hundreds of thousands of hours, to develop processes and products that safely and easily address the issue of concussions, spinal, teeth and jaw injuries. Their first official product is called "The WrightGuard" which could be found at http://www.thewrightguard.com or http://shop.thewrightguard.com/
Navorro Bowman is a professional athlete and Super Bowl contender with record stats in the National Football League with over 100 tackles and 2nd in combined tackles. With such impact throughout each regular season, Navorro is very prone to the above injuries from all this impact. Navorro trusts the solution (The WrightGuard) by Dr Wright, to provide him with safety and enhance his performance as well. Navorro who lives all the way across the country still seeks this solution from the East coast to provide him with great protection through his career. Navorro has also made it common practice to wear his protective custom mouthguard on and off the playing field. He uses it to work out in the gym or other active sports outside his professional career.
Dr Wright and his dedicated team have tested and proven this product's effectiveness using professional athletes and student athletes alike over the most recent years. With notable names like Lorenzo Alexander, Chris Wilson, Deangelo Hall, Tyrod Taylor, Brandon Banks, Navorro Bowman, Nate Bussey, Tim Hightower, Kerry Rhodes, Vincent Fuller and Adewale Ogunleye, there is substantial evidence up to the professional level that this is an effective solution for its issue. Each custom guard for such athletes underwent a rigorous process whereby Dr Wright handcrafts each guard for at least 6 hours.
Dr Michael Wright is proving that this is a necessary solution for professional, collegiate leagues and active sports families, to incorporate while playing sports or being active.
This past Super Bowl Sunday, just like the previous Pro Bowl Sunday in Hawaii, two professional athletes wore a custom version of the WrightGuard. During the biggest annual sports game in the entire country, he hopes to increase awareness in adequate safety and protection for the teeth, jaw and potentially spine of active players in sports. Dr Wright is initiating a nationwide tour to accomplish the mission of spreading awareness of protecting yourself while enhancing your capabilities during active sports. He plans to save as many young, adult and older people that love playing sports, from the short or long term detrimental effects of injury.
Dr Wright has currently launched a much more affordable, equally effective solution known as the TWG X for the everyday active individual. This hand crafted, patent pending mouth-guard and TWG-Elite mass- produced brand was inspired by advanced features in cosmetic dentistry, delivering a look and style that is unmatched in the industry according to several NFL players.
Learn more about the Wright Guard on the website http://www.TheWrightGuard.com and follow their social networks to learn more as well as tips to stay safe and perform better while playing sports.
About Dr Wright
After actively participating in baseball and football through middle school and high school, his college years turned him to an avid sports fan and lover of football. Today he is a highly recognized prosthodontist, being often recommended for the restoration and replacement of teeth. Michael Wright, DDS, MS, provides enhanced cosmetic and reconstructive services beyond the scope of general dentistry. With years of additional training, He has become an exceptionally gifted prosthodontist with expert skill in dental implants, crowns, bridges, veneers, inlays, TMJ problems, traumatic injuries, and complete oral reconstruction. Dr. Wright takes pride in offering the best in patient care and feels that every patient should receive the finest service. He is rapidly becoming known as a leader in the complete dental transformation for people who want to look younger and feel better about their teeth.
About TWG
The Wright Guard Inc. (TWG) is a Bethesda, Maryland based dental products company. The Company was founded by Prosthodontist, The WrightGUARD™ was created by Dr. Wright to be the last line of defense in reducing the occurrence of severe concussions and devastating mouth injuries in contact sports such football. It combines facets of cosmetic and reconstructive dentistry, to deliver a one of a kind, beautifully crafted and durable mouth-guard. Specialty made or mass-produced, using advanced composite materials, blended with individualized personalized aesthetics and features.
Currently worn by some of the top players in the NFL, The WrightGUARD™ is poised to be the top mouth-guard brand in sports, making today's image conscious athlete feel confident and assured, in knowing they have increase protection from serious head injuries and also are more likely to standout for their stellar on field performance.
For further info contact:
Ike Nwaneri
ike(at)keadworks.com
8201 Wisconsin Avenue
Bethesda MD, 20814
Phone: (240) 599-9525