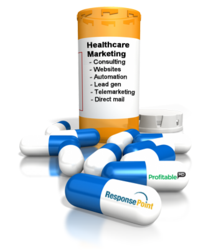 This partnership provides healthcare companies the proven marketing processes and experience necessary to build and maintain a strong sales pipeline
Raleigh, NC (PRWEB) February 05, 2013
ResponsePoint (http://www.ResponsePoint.com), a Raleigh, North Carolina based marketing agency specializing in Business-to-Business (B2B) lead generation is pleased to announce its partnership with ProfitableMD (http://www.ProfitableMD.com) to provide expert marketing advice, services and support to the increasingly competitive healthcare technology and services industries.
"ProfitableMD.com has grown to be a trusted resource for small and mid-sized practices," says Chris Rosati, founder of ProfitableMD. Practices can read and share peer reviews of technology and services on ProfitableMD's website, as well as access helpful information on how to improve efficiency. "The site is free and is funded by the marketing work we do for revenue cycle management, EHR and other healthcare vendors. We needed an experienced partner who could help us expand our capability and capacity."
The partnership between ResponsePoint and ProfitableMD provides the proven marketing processes and experience necessary to build and maintain a strong pipeline by combining ResponsePoint's proven marketing processes and expertise with the in-depth industry knowledge of ProfitableMD. Working together, they will provide services ranging from full outsourcing to strategic consulting, lead generation, marketing automation, web design, market surveys and more.
"Successful small and medium size businesses in niche markets often get complacent and fail to see trends that threaten their business until it's too late," says Brian Gossett, CEO of ResponsePoint. "Through our partnership with ProfitableMD, we'll be able to help these service providers improve their core business processes and lead generation activities to ensure they have a strong competitive edge for years to come."
For more information about working with ResponsePoint and ProfitableMD, visit http://www.responsepoint.com/profitablemd/ or call 800-990-0725.
About ResponsePoint
ResponsePoint builds efficient and effective B2B lead generation solutions. Our process centered approach to lead generation improves your ability to produce better quality leads, consistently over time. This starts with developing a strategy that aligns your objectives with the right target audience and the perfect mix of marketing communications. We then use our experience to apply proven marketing processes and technologies that simplify program management, measurement and sustainability for long after our initial engagement is over. ResponsePoint's headquarters is just outside the Research Triangle Park area of North Carolina.
About ProfitableMD
ProfitableMD helps medical practices run their business like a business. A free resource featuring peer ratings and reviews of healthcare technology and services, ProfitableMD.com also provides information on best practices, technology and trends. For more information, visit http://www.profitablemd.com.