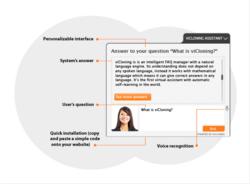 It's like Siri and live chat had a baby!
Barcelona, Spain (PRWEB) February 13, 2013
Viclone, an emerging leader in intelligent virtual agent solutions announced viCloning public beta – the first affordable intelligent virtual agent and customer service optimization solution that doesn't require IT skills to set up and maintain.
viCloning benefits companies that are spending too much on online customer service and support, and yet are not able to provide customers with the service and support they deserve. This solution helps smaller companies and start-ups that are often unable to deliver adequate customer service due to the excessive monetary and human costs of providing a true around-the-clock customer service and support.
viCloning is affordable. Costing the same as a typical live chat solution but without the hidden human and monetary cost, or the tremendous opportunity cost of splitting your time between running your business and providing customer support.
viCloning is simple. It doesn't require IT skills, and only takes five minutes to setup. It is the first intelligent virtual agent solution that can be easily self-managed. Even companies with no existing self-help knowledge bases can start to dramatically reduce customer service expenditures within a day.
viCloning uses a natural language engine to understand the meaning of the question. It is the first intelligent virtual agent with automatic self-learning and a user-friendly, proactive trainer. It can support more than 35 languages ensuring that no matter what language a customer speaks, it will be understood.
viCloning doesn't sleep, go to lunch or on vacation. It is the only true 24/7/365 customer service and support solution that delivers a consistent level of service.
The questions customers ask, and how they ask them, are an invaluable insight. viCloning provides real-time comprehensive analysis and customer intelligence tools which allow companies to understand their customers better than ever before.
viCloning is incredibly scalable and can easily grow with companies as they transform from a humble start-up to a large corporation.
Sign up at http://www.vicloning.net, it will only take a minute, and try this incredible solution for yourself.
About Viclone Corp:
Viclone Corp is an international R&D and consulting company based in Barcelona with more than a decade of experience in the field of artificial intelligence, natural language processing and intelligent virtual agent applications. Viclone focuses on providing innovative and cost-effective solutions that simplify complex processes, improve customer satisfaction, and are accessible and easy to use.