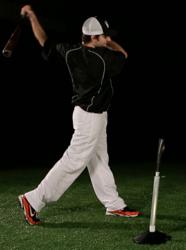 This tee was meant to be hit.
Brockton, MA (PRWEB) February 06, 2013
The PVTee by ProMounds® (prototype name was "FLX-Tee") made its official debut into the baseball and softball market at the 2013 American Baseball Coaches Association (ABCA) convention in Chicago. The PVTee, which means Portable, Versatile, and Tough, came away from the January event with the prestigious Best of Show Award. The characteristics of the tee include the innovative new pivot joint which allows the stem of the tee to be flexible, its one second breakdown, and its superior quality. It's "The tee that's meant to be hit." The PVTee was chosen from a number of new cutting-edge baseball products showcased at the ABCA, the largest baseball convention in the world. The PVTee is "An innovation in batting tee technology," said Collegiate Baseball Magazine.
"This Best of Show recognition from the ABCA convention confirms that the PVTee is a tee that was designed to be the best on the market," said Joe Murphy, President of ProMounds. "Continuing our standards for the highest quality, the PVTee joins the ProMounds family including the Designated Hitter™ (previous Best of Show winner), Ultimate Pitchers and Catchers Plate™(previous Best of Show Winner) , Strike Strings™ (Best of Show honorable mention), Our Portable Pitching Mounds and Mats, and More." Murphy added "We designed the PVTee by listening to players and coaches. We were being told that the market needed a tee that will be portable, break down quickly, and will stand up to the wear and tear that teams put equipment through."
Research and Development Manager Billy Rullo added; "The new design is innovative in that it utilizes a unique magnet to allow the Tee to break down in one second and be put in the equipment bag for travel. It has a weighted base that holds the tee in place, and its flexible pivot joint allows the impact of a mis-hits to be realized in the pivot joint, not the other tee components. The flexible pivot joint also takes the impact away from the batters hands and helps eliminates bat damage, and it allows for continuous training by being virtually impossible to tip over. In fact the flexible pivot joint will have the tee back to the upright position before you are ready to put the next ball on." Continuing, Rullo said "the PVTee, with its patent pending design, was lab tested with over 2500 mis-hits showing no wear and tear. This tee was truly meant to be hit."
The PVTee is available through On Deck Sports. To watch a video and learn more about the PVTee, or to purchase the PVTee, visit http://www.ondecksports.com/pvtee.
About ProMounds: Based in Brockton, Mass., ProMounds manufactures and supplies artificial turf, sports netting, and baseball & softball equipment. Since 2001, ProMounds has continued to create innovative products for the demanding baseball and softball industries. For more information visit http://www.ProMounds.com.
About On Deck Sports: On Deck Sports is a retailer of sporting equipment, sports netting, and artificial turf. In addition, On Deck Sports has designed, installed and supplied over 1000 indoor sports facilities and academy's. For more information visit: http://www.OnDeckSports.com