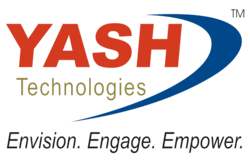 A thriving partner ecosystem is central to SAP's success, and partners like YASH Technologies are key drivers for our customers' success and for SAP's market reach.
Indore, India (PRWEB) February 06, 2013
YASH Technologies today announced it is the recipient of the SAP® APJ Partner Excellence Award 2013: Top Partner – SAP Business All-in-One. Awards were presented by SAP during the SAP Asia Pacific Japan (APJ) Field Kick-Off Meeting (FKOM) 2013, held January 14-16 in Singapore, to the top-performing SAP channel partners and SAP services partners in the APJ region for outstanding contributions that impact overall SAP sales and pipeline-generation goals.
"YASH is honored to receive this top partner award from SAP," states Janaki Ram Cheruvu, vice president, YASH Technologies. "SAP's investments in innovation have allowed partners to help drive the same value to customers. Their leadership and dedication to the success of partners in their ecosystem is best in class and we look forward to making 2013 another successful year."
Selected from SAP's wide-ranging Asia Pacific Japan partner base, nominations for the SAP Regional Partner Excellence Awards were based on internal SAP sales data. A steering committee composed of regional and global SAP representatives determined winning partners in each category according to numerous criteria such as sales achievement and performance. As the recipient of the APJ Partner Excellence Award, YASH Technologies has been honored as the 2013 top partner in APJ for sales of SAP Business All-in-One solutions. Winners will receive strong recognition from the SAP field for their accomplishments.
YASH Technologies received the award during the SAP APJ FKOM 2013 event, an annual gathering of SAP executives, SAP field employees and partners. FKOM is SAP's largest yearly sales meeting, intended to drive success during the upcoming year. Colleagues across the region gather to gain and exchange updated information on SAP's strategy, sales methodology, best practices, business growth opportunities and product innovations. This year's APJ FKOM hosted 3,200 attendees from the region.
"A thriving partner ecosystem is central to SAP's success, and partners like YASH Technologies are key drivers for our customers' success and for SAP's market reach," said Bronwyn Hastings, senior vice president, Ecosystem & Channels, SAP APJ. "As a recipient of a SAP Regional Partner Excellence Award 2013, we recognize YASH Technologies' commitment and efforts in developing and growing its partnership with SAP, which has led to game-changing co-innovation and market expansion."
During the last seven years, YASH has had a very strong and deep-rooted relationship with SAP. YASH has a proven record of success and rich experience with industry-specific SAP Business All-in-One solutions. It leverages its proprietary implementation methodology, S-Imple (Streamlined Implementation), for rapid deployments. SAP Business All-in-One solutions are based on SAP best practices and are preconfigured for specific industries that are implemented quickly for fast return on investment. Please contact info(at)yash(dot)com for more information.
About YASH Technologies
YASH Technologies focuses on customer success. As a leading technology services and outsourcing partner for global customers, we leverage technology and our flexible delivery models to drive performance and business value throughout a customer's enterprise. YASH's comprehensive service approach incorporates a holistic view of our customers that extends beyond delivery. This approach integrates enterprise solutions and services, proprietary best practice offerings, strategic application and maintenance outsourcing, as well as consulting and integration services. YASH is a SEI CMMI (Level 3) and an ISO 9001:2008 certified company with U.S. and India headquarters and regional sales and development offices spread across five continents. For more information, please visit http://www.yash.com or email info(at)yash(dot)com.