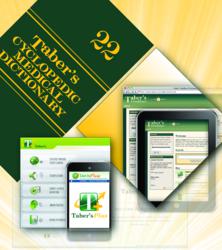 "In today's technology-driven world, students and clinicians expect to be able to retrieve the information they need when and where they need it,"
Philadelphia, PA (PRWEB) February 06, 2013
F.A. Davis Company announces the publication of the 22nd Edition of Taber's in print, mobile, and web formats. For nearly 75 years, nursing and healthcare students, educators, and practitioners have turned to Taber's as their all-in-one, go-to source in the classroom, clinical, and beyond.
"In today's technology-driven world, students and clinicians expect to be able to retrieve the information they need when and where they need it," said Robert H. Craven, Jr., President of F.A. Davis Company. "Taber's 22 responds. In hand, online, or on a mobile device, our customers are able to access the authoritative content of Taber's in the medium of their choice. We've also made sure that Taber's meets the evolving needs of healthcare instructors, students, and practitioners with new web-based resources and a new flash card app. The New Edition of Taber's is the most versatile and authoritative source of healthcare knowledge available today."
Taber's 22 is today's most comprehensive health science dictionary. Under the editorial direction of Donald Venes, MD, MSJ, a team of expert consulting editors and consultants representing every branch of health care, work with the Taber's in-house editorial staff to ensure that the content is current, comprehensive, and concise.
Readers will find cyclopedic entries, more than 65,000 reader-friendly definitions, detailed, full-color illustrations, patient care statements, appendices with nursing and allied health-specific resources, and so much more.
Taber's 22 breaks new ground with the launch of Taber'sPlus and the free, Taber's FLASH app, complemented by a free, one-year subscription to Taber's Online, powered by Unbound Medicine.
Taber'sPlus is an online, multi-media toolkit that offers a wealth of interactive learning experiences and practical clinical tools, all designed to help users expand their knowledge of health care. Explore through Sight and Sound features1,200 images with short definitions and audio pronunciations that help students master the language of medicine and build foundational knowledge. 33,000 audio pronunciations in Taber's Audio build language fluency and confidence. 145 full-color videos and animations make complex concepts easier to understand, while Brain Teasers make learning fun. The Taber's Scavenger Hunt helps students learn how to use their dictionary and discover all that it has to offer. A Taber'sPlus code found inside new, print books unlocks these valuable resources. Access can also be purchased at DavisPlus.FADavis.com.
A free, one-year subscription to Taber's Online, powered by Unbound Medicine, is available with the purchase of new copies of the print version. It offers web-based access to all of the contents of the print version and is accessible from a desktop, laptop, tablet or mobile device with a web browser. Buyers simply use the special code they'll find inside the book. Annual subscriptions to Taber's Online and Taber's mobile apps for iPhone, iPad, and Android can also be purchased at http://www.Tabers.com.
The new, Taber's FLASH, is a free, flash card app featuring 900 terms from Taber's 22 on digital flash cards that make studying easier. Users can just flip through the cards to select a term; or review terms by one of six specialty areas. One tap activates the audio pronunciation, another turns the card over to reveal the definition. Taber's FLASH is available for a wide range of mobile devices through the Google Play and iTunes stores.
Taber's 22 also offers new teaching resources for instructors and learning tools for students available on the DavisPlus website at DavisPlus.FADavis.com, F.A. Davis's online source for educational materials. When instructors adopt Taber's 22 content for their classes, they can tap into a 1,100-question electronic test bank, a scavenger hunt, and an image bank. Quick-reference bookmarks are also available. Students and clinicians have access to bonus appendices, audio pronunciations, animations, and videos, a nursing assessment took, and a wealth of other valuable resources.
Taber's 22 is available in multiple media formats to meet multiple needs. Taber's 22 and many of F.A. Davis's most popular textbooks are also available in special money-saving packages.
Print Versions
Thumb-indexed
$42.95 (US) | $46.50 (CAN)
ISBN-13: 978-0-8036-2977-6
Non thumb-indexed
$39.95 (US) | $42.95 (CAN)
ISBN-13: 978-0-8036-2978-3
Deluxe Gift Edition
ISBN-13: 978-0-8036-2979-0
$110.00 (US) | $117.95 (CAN)
Print + Electronic Version 5,0 on DVD
Mac and PC Compatible
$89.95 (US) | $96.50 (CAN)
ISBN-13: 978-0-8036-3847-1
Taber's Online, powered by Unbound Medicine
$34.95 (US) | $37.50 (CAN)
1-year web subscription
Mobile and eBooks
Visit http://www.FADavis.com for Taber's content in mobile and digital formats.
Taber's 22 is available at bookstores or directly from F.A.Davis. For more information, call 800-323-3555 or visit http://www.FADavis.com.
About F.A. Davis Company
F.A. Davis Company, an independent publisher since 1879, has been publishing titles to meet the needs of generations of health care providers. Today, F.A. Davis carries on that tradition through its catalogue of books and electronic and online products for students, educators, and clinicians in Nursing, Medicine, and the Health Sciences.
Its flagship titles, Taber's Cyclopedic Medical Dictionary and Davis's Drug Guide for Nurses, are among the most trusted names in health care publishing.
About Unbound Medicine
Unbound Medicine is a next-generation health care knowledge company. Unbound produces award-winning mobile and Web products for partners and health care professionals using its end-to-end digital publishing platform and information architecture expertise. Additional information is available at http://www.unboundmedicine.com.