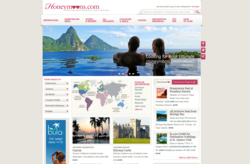 "We wanted to provide a honeymoon travel web site that was more than just modern and beautiful. We set out to create a valuable online resource with new functionality to reflect the expanding definition of the couple and honeymoon experience."
Fairfield, Connecticut (PRWEB) February 07, 2013
Synerge-marketing, LLC announces the recent launch of the newly designed Honeymoons.com website expanding the honeymoon planning experience and inspiring couples to uncover fresh, new honeymoon ideas around the world.
Just as the portrait of the modern day wedding has changed, so has the landscape of the honeymoon. In addition to the always popular sun and sand destinations, today's honeymoon travel trends include adventure-oriented excursions, unique road trips, LGBT-specific locations and even family/kids spots.
Honeymoons.com approached Synerge-marketing to help update their web design and site usability. "We wanted to provide a honeymoon travel web site that was more than just modern and beautiful. We set out to create a valuable online resource with new functionality to reflect the expanding definition of the couple and honeymoon experience." explained Randi Brawley, President of Synerge-marketing.
The former static site was transformed into an interactive, dynamic experience for the visitor. Specific filters, such as, Experience (sustainable, food/wine, adventure, active), Scenery (city, countryside, beach, mountain, lake, private island), Resort Type (spa, eco-friendly/sustainable, villa, adults-only, castles), and Traveler Profile (disabled, baby-moon, vow renewals) were newly implemented.
The helpful "Honeymoon Ideas" section clearly outlines specific scenarios, such as "Baby Moons" (celebrating an upcoming arrival) and "Mini Moons" (a mini honeymoon for a shorter stay) for more fresh ideas. Also, new to honeymoons.com, is an expansive section for the LBGT traveler. These functions of Honeymoons.com help the user form honeymoon ideas that they may not have considered before. Soon to be brides and grooms will also find less well known resorts in New England, Colorado, Wyoming, Canada, Switzerland, Chile, Dubai, India, etc., so that couples match a destination to a budget and/or style all their own.
Synerge-marketing's Creative Department chose Kim Tomlinson, for the re-design. Based on vast experience in the travel industry (Virgin Atlantic, Rough Guides, Boston and Philadelphia Online Magazine and Ritz Carlton Resorts), Kim managed to organize vast amounts of information and imagery in a clear, user-friendly format that was both aesthetically appealing and easy to digest. Visitors can now research their honeymoon, first by general idea - experience, budget, etc. - and then drill down to resorts within their chosen destination. Finally, after a location is selected, couples can find ideas for activities, dining and nightlife.
For in depth, expert travel writing, copywriter Dale Cunningham (formerly from Starwood Resorts) was called upon. Dale also contributed new travel guides and information about destinations around the world.
For administrative ease (content management), they chose the Wordpress platform because of its rich database and easy-to-edit format so that non-technical users could update and add content without difficulty.
With smart features, such as "Honeymoon Tips" (how to pack, how to tip, etc.) and a booking Engine so that visitors can plan and book their trip all in one place, honeymoons planning has never been easier. Visitors will find fresh, easy and stress-free honeymoon ideas that include every type of honeymoon for each type of couple.
Explore more at: http://www.honeymoons.com and see other dynamic web designs by Synerge-marketing at: http://www.synergemarketing.com.