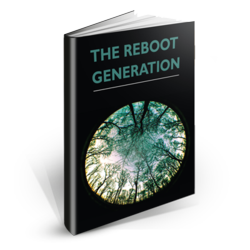 "The REBOOT generation is full of possibilities both for themselves and for the marketers who to date have largely ignored them". Sue Rice
Paris, France (PRWEB) February 07, 2013
The REBOOT GENERATION survey unveiled today destroys all lingering myths about what it is like to be in your 40s and 50s in today's world. On a variety of issues from beauty to relationships to work, the study paints a picture of a vibrant, creative and energetic group of people looking for adventure and challenge. This is in stark contrast of the classic perception of what it means to be 'middle-aged': anxious, fearful of losing looks and obsessed with retirement.
Click here to see the highlights of the Reboot Generation survey.
Sue Rice, midlife trend specialist and author of the REBOOT GENERATION survey, explains, " "This is arguably the most important and powerful group out there right now. But for some reason perception lags about 20 years behind the reality. Many still assume that people in midlife are graying,'slowing down' and preoccupied with retirement. The reality is that this is a vibrant, creative and energetic group of people who feel great about themselves and are convinced their best days are in front of them." Rice adds, "I think it is time that companies and politicians start to re-think the old paradigm of what it means to be in your 40s and 50s. These younger 'boomers' have always broken the rules. And they are not stopping now. If you miss out on talking to this group correctly, you are missing out big time",
The REBOOT GENERATION study shows that a whopping 84% of the participants 'love their lives' and almost 100% are optimistic for the future, claiming it is never too late for 'big changes'. Their biggest worry is financial security although few claim being really wealthy is a priority. They are intrigued by entrepreneurship and love to travel. Their favorite pastimes are enjoying the simple things in life, like a meal with friends and family.
To see the complete study, go to http://reinvent.midwaycafemagazine.com/rebootgen/
Sue Rice is the author of the REBOOT GENERATION survey as well as a long-time strategic and communications expert, trends specialist, author and serial entrepreneur. Nicknamed the 'female David Ogilvy", Sue is famous for her thought leadership and outstanding writing. She started her career on Madison Avenue and came to Paris in the 90s to help run BBDO's European headquarters. Since 1994, she has run a series of 6 and 7 figure companies and consulted companies like Lego, Nike and Ericsson as well as a set of premium, midlife entrepreneurs.