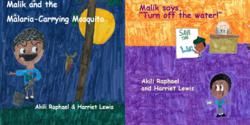 (PRWEB) February 07, 2013
The Malik and FriendsTM children's book series, authored and illustrated by 9-year old Akili Raphael, is targeted to kids ages 3 to 8 and teaches them about different parts of the world, global issues, friendship, and problem-solving. Global issues tackled in the series include malaria, water conservation and sanitation, and natural disasters. Children are encouraged to volunteer in their local communities to address global concerns. Malik and FriendsTM teaches young children to be global citizens.
In the book, Malik and the Malaria-Carrying Mosquito, the protagonist Malik, travels to Ouagadougou, Burkina Faso in his little yellow airplane to deliver bed nets to his friend François to help prevent the spread of malaria. In Malik says, "Turn off the water!", Malik travels to Hobart, Australia to help his friend Catryna promote water conservation and sanitation in a school competition. Malik travels to Haiti in the third book in the series, scheduled to be released in April. The books are also available in e-book formats, and include a map of the story location, a glossary, and facts about the global issue addressed.
As an added advantage for preschool and early reader educators, lesson plans based on the books may be downloaded from the website, at no charge. The lesson plans focus on vocabulary, geography, social issues, and character development.
Malik and FriendsTM is a social venture of Illinois-based, AkAsha International. The company hopes that by engaging and educating young children through the books and other products under development, there will be an increased awareness of ways children and families can partner to solve many of the challenges in the world—inspiring future global leaders, one story at a time.
For more information about Malik and FriendsTM go to http://www.malikandfriends.com.