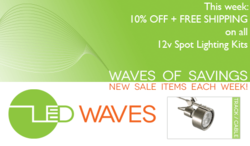 An LED MR16 uses 85% less energy and lasts ten times longer than the halogen light bulb it replaces.
Brooklyn, New York (PRWEB) February 05, 2013
New York-based LED lighting supplier and manufacturer LED Waves has announced a redesign of their website. LEDWaves.com makes up the direct to consumer side of the largely wholesale and OEM business. The new site maintains much of the same content, including test reports for their selection of LED lights and supplies, live chat for technical and sales support, an ROI calculator, and a blog frequently updated with industry news.
Site changes include an enhanced search tool, a cleaner layout, and more intuitive site navigation. Recently viewed items appear on the side of the page to help visitors as they comparison shop for different LED lamps.
The relaunched site aligned with the launch of LED Waves' new weekly lighting promotion, under the banner Waves of Savings. Each week, a new LED replacement bulb or product line will be eligible for a 10% off and free FedEx Ground shipping. (Offer valid for continental USA only. Enter coupon code WAVES at checkout to apply discount to selected sale item.) The new sale item will be announced through the company's newsletter as well as through social media channels every Monday.
Waves of Savings commenced this week with a discount on LED Waves' low voltage LED spot lighting systems. These complete kits include 12v LED bulbs and fixtures, LED power supplies, and mounting hardware for installation. Users select their number of lights, fixture finish, color temperature and beam spread of their bulbs, and dimming function. After installation, the pivoting fixtures may be repositioned along the track or cables, making these custom spot lighting kits popular in restaurants, galleries and retail locations where lighting needs adjust with changing merchandise or layouts.
An LED MR16 uses 85% less energy and lasts ten times longer than the halogen light bulb it replaces, so users see a quick return on their investment through lower electric bills and fewer lamp changes.
The Flex II LED Track Lighting system features 10 feet of cuttable, highly flexible track. The Star LED Cable Lighting system suspends 12v light fixtures between two lengths of cable (40ft included; for up to 20ft long installations). Non-dimming 3-light kits start at $373.45 with the promotion. Users may special order more fixtures, additional lengths of track or cable or mounting hardware for alternative configurations.
The 10% discount and free shipping offer applies to LED track and cable lighting orders placed online and over the phone at 1(800)986-0169. Further along in the Waves of Savings promotion, discounts may still be applicable to previous sale items; lighting specifiers may call LED Waves' sales team to ask for availability under the Contractor Special.