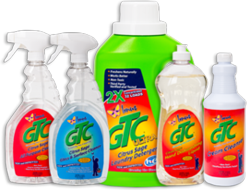 New York, NY (PRWEB) February 06, 2013
GTC Greening The Cleaning® is excited to announce that our product line has received the highest ratings in the Environmental Working Group's "Guide to Healthy Cleaning." In its guide, EWG carefully reviews and rates the human health and environmental impact of more than 2,100 popular household cleaning products with grades A through F, based on the safety of their key ingredients and the information they disclose about their contents.
The Environmental Working Group is a non-profit, consumer advocacy organization focused on using the power of information to help consumers make the best decisions for their health. EWG's Guide to Healthy Cleaning offers people practical solutions to protect themselves and their families from everyday exposures to potentially harmful chemicals.
"Here at GTC™, we have always believed full disclosure of ingredients is the only way to prove that we are as green – and as healthy – as we say we are, and that we have nothing to hide" said Deirdre Imus, founder and president of the Deirdre Imus Environmental Health Center®.
For more information or to purchase GTC™ for your home or business, please visit http://www.greeningthecleaning.com, or call 1-888-284-IMUS.
About Greening the Cleaning
From Ranch to Hospital to Home
In 1998, Deirdre and Don Imus founded The Imus Cattle Ranch for Kids with Cancer in Ribera, New Mexico. Deirdre is passionate about keeping this healing environment toxin-free. No junk food and no harsh chemical cleansers allowed! After seeing kids thrive at the ranch, she was inspired to bring this lifestyle to another healing place: the hospital. She worked with a team of experts at the Hackensack University Medical Center to develop a line of cleaning products that are effective enough for leading hospitals, but safe enough for children's playrooms.
Greening The Cleaning® strives to eliminate all cleaning agents containing hazardous ingredients, and replace them with environmentally responsible, less toxic products wherever possible.
We proudly disclose all of our ingredients. All GTC™ products are derived from renewable natural resources like plants and fruits. They are safe for our water, soil, food chain and our children.
100% of all after tax profits from our GTC™ product line go to the Imus Cattle Ranch for Kids with Cancer®, a 501(c) (3) not-for-profit.