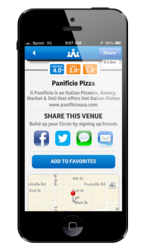 Advershares fully leverages your social circle for you to save and earn.
Sarasota, FL (PRWEB) February 06, 2013
Advershares announced the release of its first mobile app for social shopping, now available through Apple's iTunes store. Described as the next evolution in social media, social shopping combines social media with discounts for shopping and earnings for referrals. The Advershares program is a hyper-local platform that rewards members with discounts when shopping and cash rebates for referrals at popular stores & restaurants, as well as online.
"We've seen social media explode," noted Jeff Birnbach, President of Advershares, "but current sharing sites don't provide any incentive for consumers to participate with merchants. We've developed a patent-pending platform to link merchants, consumers and friends through a seamless mobile app. When you shop you save, but when your friend shops, you earn. No one else is offering a program that fully leverages your social circles to save and earn."
The Advershares platform allows businesses to determine a discount level they will offer new customers. Unlike coupons, the program also rewards valuable repeat customers for their loyalty and encourages them to refer their friends. The discount is rebated to the user's credit or debit card, along with cash rewards for referring their friends. Customers are incentivized to shop at local businesses and refer friends to them. The mobile app gives small merchants an opportunity to compete with the larger chains all vying for piece of the growing SoLoMo (social local mobile) market.
"Like most merchants, we believe that the deep discount levels required for programs like Groupon aren't sustainable," said CEO Roy Gonzales. "Merchants need to attract new customers and build loyalty for long term with a viable program that resonates with customers. Our platform for social shopping draws a community together."
Formed in 2011, Advershares is an early stage company funded by a team of Florida investors. The firm is headquartered in Sarasota, FL and has been conducting platform and product testing in Detroit and Cleveland, as well as in southwest Florida for the past several months prior to releasing the mobile app.