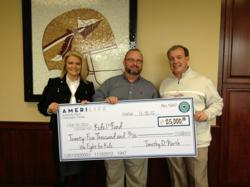 Clearwater, Fl (PRWEB) February 05, 2013
AmeriLife Chief Executive Officer Timothy O. North presented this morning a $25,000 check to Florida State University Seminoles head football coach Jimbo Fisher. The contribution is for the Kidz1stFund, a research project established by the coach and his wife, Candi, to find a cure for Fanconi anemia.
The Fishers' son, Ethan, 7, is fighting Fanconi anemia, a genetic disorder that stunts the body's production of bone marrow, meaning Ethan may eventually need a bone marrow transplant.
"We helped 'seed' the creation of the Kidz1stFund in 2011, and we hope to be a part of this noble project when a cure is finally found," said Mr. North, whose Clearwater-based AmeriLife is the largest annuity, life and health marketing organization in the United States. The annual contribution to Kidz1stFund is a component of AmeriLife's philanthropic Community Outreach programs.
Mr. North joined Candi and Jimbo Fisher as they addressed progress made in Fanconi anemia research in recent years, and spoke of the charity's significant donations to the Fanconi Anemia Comprehensive Care Program at the University of Minnesota, the country's largest treatment center for afflicted patients. Kidz1stFund has shared more than a half-million dollars with the Minnesota researchers.
Named by the Tampa Bay Business Journal in December 2012 as a finalist for its Corporate Philanthropy Award (http://www.bizjournals.com/tampabay/blog/morning-edition/2012/10/2012-corporate-philanthropy-awards.html), AmeriLife has made Kidz1stFund one of its priorities for continuing support and contributions.
Kidz1stFund is a 501 (c) (3) non-profit charity, providing support to families, as well as education and awareness of the disease. Additional information about the fund and its contributions to research into Fanconi anemia may be found at http://www.kidz1stfund.com.
For additional information on AmeriLife (http://www.amerilife.com) or Timothy North's contributions to the Kidz1stFund, please contact Director of Corporate Communications Wayne Shelor at 727-726-0726, or wshelor(at)amerilife(dot)com.