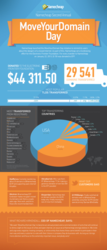 Los Angeles, CA (PRWEB) February 05, 2013
Leading registrar Namecheap has raised more than $44,000 in its second annual MoveYourDomain Day, a transfer initiative launched in favor of an open Internet. MoveYourDomain Day started in late 2011 when the threat of the Stop Online Piracy Act (SOPA) threatened our online liberties. While this threat has passed, other acts have been proposed by governments throughout the globe that threaten online freedoms. As such, Namecheap, as a strong advocate toward a free and open Internet, has started this fundraising effort to assist the Electronic Frontier Foundation in their fight to help keep the Internet free.
"We are happy to see that our annual protest has effectively helped shine a light on the issue of a free and open Internet," Richard Kirkendall, CEO of Namecheap said. "We are even more delighted to see that our efforts to call attention to this issue has helped raise over $44,000 to such an important cause."
During MoveYourDomain Day, Namecheap saw nearly 30,000 inbound transfers, most from the US and China. Nearly eighty percent of domains transferred to Namecheap were .com domains, followed by .net (about 10%).
Namecheap has created an infographic about the MoveYourDomain Day initiative which shows interesting statistics of the countries that participate in the initiative, the domains that were transferred, and the losing registrars, among others.
Shari Steele, Executive Director, EFF, said, "EFF is very pleased to see the tremendous response and generosity of the Namecheap community on Move Your Domain Day. Namecheap users rallied together and raised over $44,000 for EFF, funds that will ensure that EFF can continue the fight for digital rights on behalf of all Internet users."
About Namecheap
Namecheap is a Los Angeles-based ICANN accredited domain registrar founded in 2000 by CEO Richard Kirkendall. With over 800,000 clients and millions of domain names under management, Namecheap is one of the top domain registrars in the world and also offers web hosting services. Find out more by visiting us at http://www.namecheap.com.