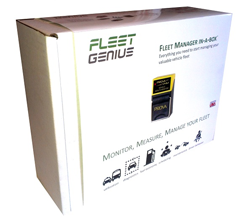 We also needed a system that could keep up with our mission critical responsibilities without breaking the bank. Fleet Manager-in-a-box meets those requirements it was so easy to install that we were able to do it ourselves in a couple of hours
Carbondale, PA (PRWEB) February 06, 2013
Franklin County EMS in Ottawa, Kansas has implemented Prova Systems' Fleet Manager-in-a-box™ wireless fleet management system for their emergency services fleet. The system consists of Prova's wireless OBD-2 fleet management monitors (VHM) and a wireless Zigbee/802.15.4 access point basestation.
The VHMs have been installed into their emergency vehicles and monitor every aspect of their EMS vehicle use including trip tracking, engine performance and diagnostics including diagnostic trouble codes (DTCs) and driver behavior monitoring. The devices automatically update the meters used to track and trigger preventive maintenance actions with mileage, engine running time, fuel usage and hard braking meters.
Franklin County selected Prova's partner, Fleetio, to manage the data collected by Fleet Manager-in-a-box™ and provide Franklin County with a comprehensive solution. Fleetio allows the EMS department to streamline their fleet management responsibilities. Critical data like idle time, fuel efficiency and driver behavior are downloaded from vehicles and uploaded directly to their Fleetio account.
"We needed an automated wireless system that would help us manage our maintenance program and more importantly to track vehicle performance better to keep our fleet in top running condition." emphasized Nick Robbins, Franklin County EMS Chief. "We also needed a system that could keep up with our mission critical responsibilities without breaking the bank. Not only does our Prova Systems and Fleetio system meet those requirements it was so easy to install that we were able to do it ourselves in a couple hours."
ABOUT PROVA SYSTEMS: Prova Systems designs and manufactures wireless vehicle diagnostics systems for use in fleet management, drive-by emissions testing, secure access controls, usage based insurance and distracted driver programs and other critical commercial vehicle applications. Prova's line of wireless OBD-2 vehicle monitors, wireless sensors and analysis products capture real-time operational diagnostics for use in its own Fleet Genius™ SaaS application and 3rd party partner applications. The company focuses on OEM and aftermarket technologies which make consumer and commercial vehicles safer, more fuel efficient and greener. The company is based in Carbondale, PA and sells its products directly and through resellers in the USA and internationally. http://www.provasys.com http://www.fleet-genius.com
About Fleetio:
Fleetio is a premier web-based software solution for fleet maintenance management. It was founded in 2011 to provide a simple, yet powerful way to manage vehicles and log maintenance. Fleetio keeps track of an organization's vehicles, their records, and all past and future maintenance items. Our solutions allow customers to track mileage, handle maintenance on time, and securely store all vehicle information online. As a web-based system, our customers can access Fleetio anytime, anywhere.
Fleetio is made by RareStep, a software company based in Birmingham, AL focused on creating remarkably useful web-based software.
For more information, visit us at http://www.fleetio.com.
###