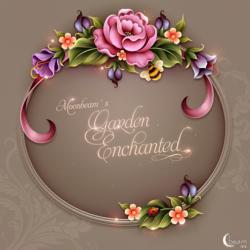 Words cannot express how amazing your work is... it must be seen to be appreciated. I am in awe of your artistic talents. Thank you for sharing your work with us!
Mary Jane
Tacoma WA (PRWEB) February 05, 2013
New at Jaguarwoman Designs: Moonbeam's "Garden Enchanted". This digitally painted graphic décor kit is inspired by one-stroke flower and mural painting and has softly festive flowers and leaves, bee, beetle, butterfly and green dragonfly. Subtle glow added to the elements in the collection gives an enchanted feel and this package can be used for Fairy-themed collages & renditions. A selection of pre-made backgrounds, quickpages, tags, standalone vignettes, frame and co-ordinating papers are included. The elements in the package can be used to create derivative designs for commercial and personal projects, as outlined in the product readme, but may not be used to create another merchant resource which competes with the original product.
About Jaguarwoman Designs, (http://www.jaguarwoman.com)
The "Jaguarwoman" in Jaguarwoman Designs is Dana Sitarzewski, a self-taught digital artist of 66 who found artistic ambition late in life, in the earliest days of the digital graphics revolution. Jaguarwoman Designs began in 1998 as a one-woman retail graphics store with a focus on high impact 2D design resources. It has since developed an international following with customers who need evocative high quality/high resolution images for both personal and commercial purposes. Starting with Jaguarwoman as the sole artist, it has expanded into a large graphics market which includes skilled artist-designers from all over the globe. In addition to a retail inventory of design resources many themes & formats, Jaguarwoman does commissioned digitally-painted art private individuals and commercial purposes. Among Jaguarwoman's areas of specialization are original floral designs and pet portraiture, as well as fantasy compositions. Jaguarwoman provides free tutorials for download and WIP instruction in digital painting in the Customer Support Forum (http://www.jaguarwoman.com/forum/ ). Jaguarwoman's business motto is: "We are dedicated to helping YOU stand out in the digital jungle".
Starting the 15th year of creative presence on the Internet, providing rare & powerful image resources for personal & commercial use . . .
Digitally Painted Floral & Animal Art, Abstract Backgrounds & Landscapes, Ornamental Alphabets, Decorative Borders & Ornaments, 3d Fantasy Characters, Digital Scrapbooking Kits & Design Resources For Personal Use & Commercial Use, 3d Texture Resources, Printables, Photoshop Styles & Brushes, Home Decor, Invitations, Greeting Cards, Custom Design & Illustration, Webdesign & Maintenance, Computer System Design & Upgrades . . . & much much more.