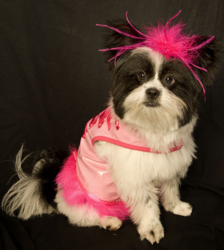 Pets Adviser's survey revealed that the most popular Valentine's Day gifts for pets this year are toys.
Brooklyn, NY (PRWEB) February 07, 2013
Smitten with your kitten? Head over heels for your hound? Valentine's Day isn't just for humans — it is becoming a prime holiday for spoiled pets, too.
Pets Adviser commissioned a survey of 262 pet owners recently and asked, "Do you plan to give your pet a gift this Valentine's Day?" Almost half of the pet owners, 45%, said yes. (About 36% said no, and 18% had not yet decided.)
"It's further proof that people today are enamored of their pets," says Pets Adviser editor and publisher David Deleon Baker. "Our dogs and cats, our ferrets, our hamsters, they are our true family, like never before — and we don't mind spoiling them either, especially on a holiday like this one."
The new survey also revealed that the most popular Valentine's Day gifts for pets this year are toys, with nearly 65% of gift-givers saying they planned to hand out special toys to their pets. Treats followed closely behind, with about 60%. Other gifts: a bone (17.7%) and a new bed (8.9%). Also, 12.9% of pet owners giving gifts said they're actually planning to prepare a homemade meal just for their pet on Valentine's Day.
Participants were also allowed to write in additional answers, Baker says. Among the other Valentine's gifts pets will receive this year:

Fancy collar
Deer antler chew
"Lots of kisses"
Blankets
Homemade treats
One person plans to take it a step further, telling Pets Adviser that her pet can expect "a new adventure" on Valentine's Day. "Somewhere he's never been before...someplace he'll love."
Baker does caution that there are some safety concerns with Valentine's Day: "Chocolate is a huge no-no for dogs or cats," he says. "It's toxic to them and could send them to the hospital. So skip the chocolates and stick with quality pet treats or toys instead."
Pets Adviser has compiled a list of 14 Valentine's Day gifts and activities that are perfect for pets. To view the list, plus a few tips for keeping things safe, go to http://www.petsadviser.com/valentines/.
ABOUT THE VALENTINE'S SURVEY: A total of 262 people took the survey online from January 3-19, 2013. Participants had visited Pets Adviser's website, Facebook page or Twitter page.
ABOUT PETS ADVISER: The website, established in 2009, has dual goals: to educate and also entertain pet owners. Pets Adviser features an extensive online library of free, expertly written and edited articles about health, behavior, training and grooming. Helping pet owners is a key goal of the site, but so is helping the animals themselves. To that end, Pets Adviser donates hundreds of dollars in advertising proceeds each year to animal welfare causes.
ABOUT DAVID DELEON BAKER: Pets Adviser editor and publisher David Deleon Baker has nearly 20 years of experience in the media industry, including work as a news designer and copy editor at The New York Times and The Nation magazine. He worked at the New Orleans Times-Picayune newspaper, where he and the rest of the staff shared two Pulitzer Prizes for work done in the aftermath of Hurricane Katrina. He now lives and works in Brooklyn, N.Y., where he founded Pets Adviser in 2009. He has a 10-year-old cat named Hillary, who will get a personalized heart-shaped tin of tuna on Valentine's Day 2013.