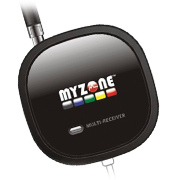 Gamification, by definition, is about applying game-design thinking to non-game applications to make them more fun and engaging....Health & Fitness is precisely the right sector for improving retention through fun and engagement.
Rockville, MD (PRWEB) February 05, 2013
Fitness software leaders MyZone and Motionsoft are coming together for a webinar focused on how gym operators can use social media & gamification to engage users and solve the fitness retention riddle in a new webinar titled "Using the power of gamification & social accountability to drive retention". The webinar, part of Motionsoft's 'The Business of our Business" series, will be live Wednesday, February 6 at 1:15pm.
Emmett Williams from MyZone and Hossein Noshirvani from Motionsoft will discuss some key points on the subject including understanding the psychology behind gamification, knowing your demographics and what strategy would work best for your facility, and how social accountability improves Group X and Small Group participation.
"Gamification, by definition, is about applying game-design thinking to non-game applications to make them more fun and engaging." said Hossein Noshirvani, VP of Marketing at Motionsoft. "Health & Fitness is precisely the right sector for improving retention through fun and engagement and the MyZone team are experts on how to make that fit into the gym experience."
"We are excited to engage the industry in this conversation about how gamification leads to better retention levels." Said Emmett Williams, President of MyZone. "Like Motionsoft, we focus day-in and day-out on the role we can play in the member experience and how that leads members to place even higher value on their fitness approach."
Individuals can register for the free February 6 webinar at http://www.motionsoft.net/webinars