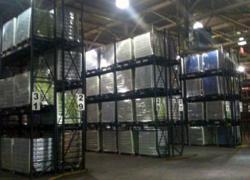 St. Louis, Missouri (PRWEB) February 07, 2013
Due to an urgent need for additional warehouse space from a Fortune 50 food and beverage manufacturer, St. Louis warehousing leader FW Warehousing recently lit up a new 400,000 square foot AIB rated food-grade warehouse distribution center on South Broadway in St. Louis.
The new facility filled up fast with more than 12,000 pallets of product. The key to the project was the need for a rapid response. The client needed the additional storage space within a short, seven-day period. FW's solutions team had to find and secure suitable warehouse space, certify that space for AIB rated food-grade storage, staff the new facility and arrange for transportation to move 12,000 pallets of product … and all this had to be done within that seven-day window.
FW's solutions team, led by Frank Dickerson, Director of Solutions, responded to the challenge of this project and shifted into high gear. The team conducted a quick and efficient situation analysis to determine the exact amount of space needed. Simultaneously, available warehouse space in proximity to the client's plant was researched and an optimal location was identified, while needed staffing levels were calculated, along with the number of drivers, tractors and trailers to transport the 12,000 pallets of product. With timely approval from the client, FW implemented a rapid startup of the new 400,000 sq. ft. facility. Staffing for the new facility was handled by moving experienced team members from FW's other warehouse distribution centers. FW acquired all the necessary permits and inspections within the 7-day window. In short order, the facility was turned into a fully food-grade compliant warehouse. All of this was orchestrated by FW's expert management team.
"Within a week, the client had their urgent need resolved and FW was able to receive shipments into the new facility for them," said Frank Dickerson, Director of Solutions. "This is what we do best – customized solutions, completed professionally, quickly and efficiently. This is what makes FW a leader in St. Louis warehousing and a leading 3PL in the Midwest."
With the opening of the new facility on South Broadway, FW Warehousing now operates a total of 12 warehouse distribution centers in the greater St. Louis area, as well as two warehouse facilities in Indianapolis, Indiana. These warehouse facilities in Missouri, Illinois and Indiana total more than 3 million square feet.
FW Warehousing is based in the St. Louis metropolitan area in Sauget, Illinois and was founded in 1949. This St. Louis warehousing firm has been ranked in the top 100 Third Party Logistics Companies by Inbound Logistics magazine. To learn more about this project, read the case study titled "Rapid Response: S. Broadway Opening" on the FW Warehousing web site. Also visit FW Warehousing's About Us and Services pages.