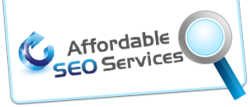 We are already working on new pricing structures to offer exactly what you need. For example, some don't need a full SEO package, because they are already performing SEO on their own
(PRWEB) February 12, 2013
When ethical finally meets cheap it creates an affect that will never be forgotten.
In 2013 http://www.affordableseo-services.com announced that they are now guaranteeing that they are the cheapest SEO services company in the world for the ethical tactics they use or they will beat anyone's prices by 10%. Apart from that, they have the rankings to prove their tactics are working great.
They were promoted by Google with top rankings using very ethical SEO tactics for many search terms like cheap SEO services, affordable SEO, and many others. It's a fact that this ethical SEO firm is the real deal, unlike many others on the market making promises and not fulfilling them.
The owner, Matthew Boley, considers himself a very affordable SEO expert, and was proud to announce that their company will be implementing a white label dashboard in a very short time for reseller purposes. He feels that their largest obstacle to overcome had to do with reporting, and this will fix the reporting issue and at the same time give their clients even more than what they were already offering. "We are already working on new pricing structures to offer exactly what you need. For example, some don't need a full SEO package, because they are already performing SEO on their own" says Boley. The company will offer the option to break their packages down and buy parts individually, like press releases, guest posts, and much more.
Expect great things to come from this company, they have climbed out of nowhere and have exceeded the demands of thousands for their businesses and continue to grow. During the first interview we had with Matthew Boley, we asked him how he kept up with the current algorithm changes, how he continues to gain knowledge, and who his peers are. His simple answer was Seomoz, he claims to be active daily in the threads and helps others on a normal basis that have questions in the threads. Matthew is a firm believer in following the ethical rules Google puts in place. He likes that Seomoz comes across in a way that helps others understand what is ethical and what isn't. He commented that he doesn't just want to rank someone up, he wants them to stay ranked for years to come. He also said he enjoys a great challenge in ranking up competitive keywords.